Imprint
BNC Honors Its Recent Donors
Since the university's founding in 1948, Brandeis National Committee donors have been an integral part of Brandeis history. Today, the BNC Tribute Wall, a focal point in the Goldfarb Library, stands as a monument to this commitment, displaying the names of BNC donors throughout the decades.
On Oct. 17, more than 50 BNC leaders, donors, members and family members met outside the library's Rapaporte Treasure Hall to recognize the contributions made by the organization's 2017 donors and add their names to the wall.
In his remarks, Brandeis President Ron Liebowitz described the Tribute Wall as "the one wall we never want to break down."
For Lindsay Mitnik '16, the event sparked emotion. The name of her grandmother, Carole Gliedman Weinberg, was added to the wall, not far from what used to be a favorite study spot for Mitnik.
"If it wasn't for my grandmother, I may have never gone to Brandeis," she says. "It meant a lot to commemorate her impact on the place that so impacted me."
Mitnik's mother, Shari Gliedman-Baker, was present as well. In fact, the family's connection to the university dates back to the 1980s, with the names of Gliedman-Baker's grandparents, Maurice and Doris Freeman, memorialized on the wall.
The name of Shirley Pollock, G'07, who was elected to the Brandeis Board of Fellows in 2016 and died in April at age 95, was also added to the wall, as daughter Barbara Ruskin looked on with pride. Ruskin's daughter-in-law Tobin Belzer, MA'98, PhD'04, did her graduate work at Brandeis.
When Pollock moved from Philadelphia to Los Angeles in 1977, her sister took her to a BNC meeting so she could make new friends. "BNC's mission moved her, and Brandeis became her community," says daughter Nancy Pollock, whose own daughter Sandha Khin '07 studied theater at Brandeis.
"We believe this is why she lived to be 95," adds Shirley's youngest daughter, Terri Ann Pollock.
Every name on the Tribute Wall is more than just a name. There's a story behind each one — a piece of BNC and Brandeis history that will continue to be honored for generations to come.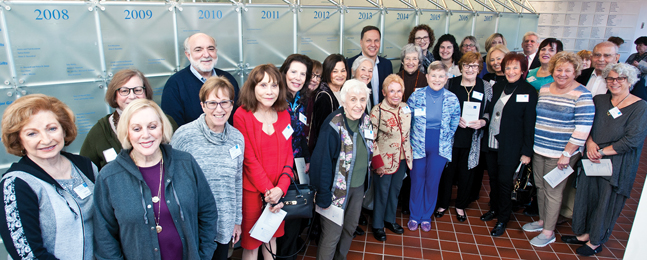 Colleagues and family members celebrated the additions to the Tribute Wall. (Photo by Ashley McCabe)