posted by
Andrea
on January 3rd, 2006 at 12:30 pm
Andrea wrote the following introduction of our class project:
"In the autumn of 2005, Professor Mark Auslander of Brandeis University and his class, entitled, "Museums and Public Memory" encountered an opportunity they couldn't pass up. Counseled by Mr. Wallace Kountze and many others, the class researched and assembled a history of the close-knit community of West Medford, Massachusetts, focusing primarily on its compelling Afro-American heritage. The goal was to present and engaging historical portrait of this community, based on the recorded accounts of its members. The exciting emerging technology of the ipod was chosen for utilization for an audio tour of the heart of the West Medford community. This tour is the result of many hours of dedicated work by the students, the members of the West Medford Afro-American Remembrance Committee, and other community partners. We sincerely hope that you are informed, enlightened, and most importantly, entertained."
Audio Introduction (without music)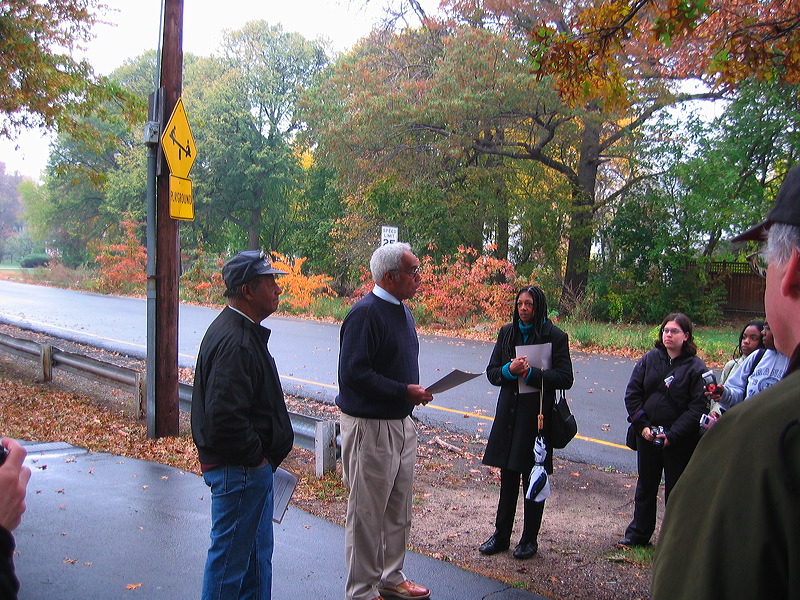 Wallace Kountze, Hilton Parham, Jr. and Marilyn Smith talk to the Brandeis University class, "Museums and Public Memory""