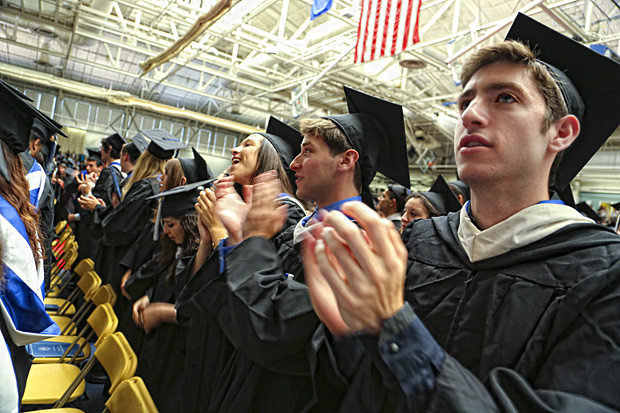 Brandeis' 62nd commencement a day of inspiration, thanks and joy
Inspirational speeches, heartfelt thanks and an abundance of joy marked Brandeis University's 62nd commencement, as more than 7,000 students, faculty, families and friends celebrated the awarding of 850 bachelor's degrees, 803 master's degrees and 93 doctorates in the Gosman Sports and Convocation Center.
In his commencement address, Dr. Rick Hodes, who has devoted his life to helping severely afflicted children in Africa, urged graduates to "run to do good" and "get your hands dirty."
In addition to Hodes, honorary degrees were awarded to Vartan Gregorian, president of the Carnegie Corporation of New York; painter, sculptor and printmaker Ellsworth Kelly; Chaim Peri, director emeritus of Yemin Order Wingate Youth Village in Israel; visionary community leader and co-founder of Operation P.E.A.C.E. (Partnerships in Education and Community Enrichment) Elaine Schuster and Leon Wieseltier, literary editor of The New Republic.
Complete Coverage »