Jason M. Olson PhD '16, Near Eastern and Judaic Studies: Navy Foreign Area Officer, US Marine Corps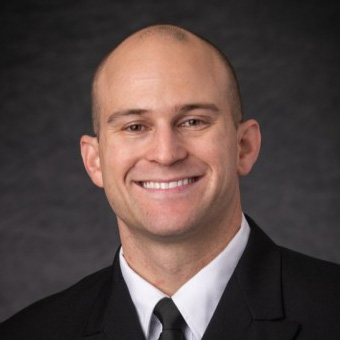 Can you describe your career path and how it has led to your current work?
I had two competing pulls as I was searching for my career path: one was teaching, which I was passionate about and good at; and the other was national service, serving the country. I did my undergraduate degree in Hebrew Bible at Brigham Young University, which was a wonderful program. A few of my professors there had attended Brandeis, mostly for Biblical studies, and they loved their experience. I became very interested in modern Jewish studies, particularly Israel studies, and Brandeis was the best in the country to do a Ph.D. in that field. I really have to give my gratitude to Professors Ilan Troen and Jonathan Sarna for bringing me to Brandeis for the education I was searching for. Once I became ABD (all but dissertation), I had to decide which direction I would go. Because I was only getting older, my window for military service was shrinking. I figured that that window was smaller than the window for a career in academics. Professor Sarna introduced me to the scholarship of Abraham Joshua Heschel and his interfaith work with Catholics and Protestants. As I learned about religious pluralism and interfaith dialogue, it really gripped me. I realized it was something core and unique to America.  My maternal grandfather was an American Jewish soldier in World War II, and I always admired him as an embodiment of the Greatest Generation. The child in me wanted to serve in uniform like my grandfather, so I became a Navy chaplain for five and a half years. I served at an airbase in Japan, aboard a missile defense cruiser, and in Marine infantry and artillery units. While at Brandeis, I also developed a strong interest in international affairs, and after I met some Navy foreign area officers overseas, I decided I would try it out! It has been an excellent position for me: giving me opportunities to think about strategy, long-range planning, and policy issues.
What services and/or resources did you use while at Brandeis for your career search? 
I talked to Sue Levine quite a few times about my desire to serve in the U.S. Government. She was very supportive and connected me with all the Brandeis alumni she could in this field. I went to almost all of the job fairs at Brandeis to talk with these alumni. I asked lots of questions, trying to find out where I could fit best. My professors, especially Professors Sarna and Troen, were very supportive as I worked to find my path. The things I learned at Brandeis were crucial for my success in the Navy. I gained a sound understanding of America's strength coming from its human diversity at Brandeis, and I was able to apply that in leading my Sailors and Marines.
What skills from your Brandeis degree have you found most valuable in your current work?
I think the most important skills I learned from Brandeis were how to embrace and lead human diversity. Once I entered the U.S. Navy, I found myself having to lead hundreds, and sometimes thousands, of troops. They were from all over the United States, of every conceivable background. At Brandeis, I learned in theory and in practice, what Heschel called "sacred humanism." As a Navy chaplain, I had to find a way to connect with the humanity of each of my troops, no matter what kind of trouble they were in or what they had done. I had to learn to listen to their stories, and not impose my agenda. In addition, my professors at Brandeis always pushed me to look deeper, for the hidden details in my research that others might overlook. In the Navy, this helped me out a great deal. I never took the easy way out when searching for solutions to complex military problems. I strove to learn from different viewpoints and opinions, trying to reconcile competing narratives and discern facts. I became a great asset to each of my commanders, contributing to what we call "force-multiplying."
What advice do you have for current students as they embark on their career exploration or job search?
Network as widely as possible. If you have the opportunity to meet someone face-to-face, always take it. Face-to-face networking and communication are always preferable to the phone or email, but this is difficult to do during Covid. In my story, to get accepted for my Ph.D. at Brandeis, I flew from Utah to Brandeis and met with my professors face-to-face. To get selected to be a Navy chaplain, I drove from San Antonio to Dallas for the first face-to-face interview with my chaplain recruiter and then flew to the Pentagon for a face-to-face interview with the board. To get my current position as a Navy foreign area officer, I drove from Camp Lejeune, North Carolina to Washington, D.C. for a face-to-face interview with one of the most senior foreign area officers, in my full uniform. Nothing compares to relating to another human being face-to-face. In the future, we may wear masks more and we may do more elbow bumps than hand-shakes, but you've got to get close enough to people that they can hear your heartbeat, and you can hear theirs. I'm confident this advice will help you get the career of your dreams and the other deals you will need to be successful. Don't let the new normal of mere virtual encounters be your modus operandi. When the pandemic is over, go out of your way to engage with those who can support your dreams, face-to-face.