Brandeis Student Co-founds Arts NGO in Ghana
When Jessye Kass '13 graduated from high school, she had never traveled beyond the borders of the United States. Then, before entering Brandeis, she went to Ghana for a gap semester.
The experience inspired her in lasting ways. Teaching English at an orphanage, Kass saw firsthand how children often struggle to learn in a poverty-stricken area. She knew she would return to Ghana, to make a difference in the lives of young students there.
So with Sorensen Fellowship and DoSomething.org seed grants, Kass teamed up with Ghanaian artist Serge Clottey, whom she met at the orphanage, to co-found the Attukwei Art Foundation, which runs outreach programs in schools in the country's Accra area. The nongovernmental organization teaches children about the world through art and provides therapeutic arts programs.
This summer, Kass, an anthropology and African and Afro-American studies double major, returned to Ghana for the fifth time along with four other Brandeis students, who are interning at Attukwei.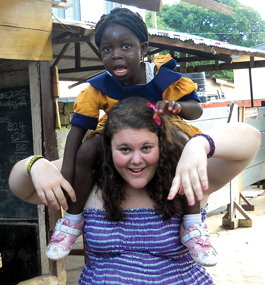 Jessye Kass '13 with young art lover
"When we started working with them, some of the kids didn't even know how to open a marker, which was really sad to me," Kass says. "They have a hard time learning to be creative."
This summer, the foundation is offering a musical theater program. Kass says the foundation also works with students on tasks as simple as learning to pass paint to one another, creating community murals or just "being silly and learning that it's OK to be wrong."
In Ghanaian schools, students are taught to memorize facts and to compete with one another, Kass says. Working together and using their imaginations are foreign concepts for many.
"I've watched some of the children go from 4 to 8 — it's really great to see them grow," she says.
When Kass and Clottey started the foundation, "we were both sort of naive about what it would take," Kass says today. Little by little, their dream began coming to fruition as they wrote a mission statement, built a website, legally registered as a nonprofit and recruited volunteers, who seek grants to pay for their own travel and living expenses.
Kass says she wants Attukwei to continue expanding its offerings, and plans to earn a graduate degree in school management or arts education after completing her bachelor's degree.
"Eventually, we'd like to turn it into a school," she says.       
— Debra Filcman