Impact
Jewish Education Gets $5.25 Million Boost from the Mandel Foundations
The Jack, Joseph and Morton Mandel Foundation has awarded a $5.25 million gift to Brandeis to fund a newly endowed faculty chair and strengthen the programming at the Jack, Joseph and Morton Mandel Center for Studies in Jewish Education. The foundation has a legacy of supporting Brandeis faculty and students, and encouraging the pursuit and dissemination of knowledge, particularly in the liberal arts and Jewish education.
The gift was announced during a ceremony to dedicate the auditorium at the Mandel Center for the Humanities in honor of Barbara Mandel, P'73, Morton's wife and a Brandeis trustee since 2005. More than 100 members of the Brandeis community attended the event, including students, faculty, senior administrators and trustees.
"Barbara Mandel's devotion to Brandeis, her distinguished service on the Board of Trustees and its executive committee, and her wide range of philanthropic experience are invaluable to the university," President Frederick Lawrence says. "Her understanding of the value of the liberal arts and generous counsel to several presidents have helped make Brandeis an outstanding institution. She is a valued member of the Brandeis community."
The latest Mandel Foundation gift to Brandeis establishes the Jack, Joseph and Morton Mandel Professorship in Jewish Education Research, complementing two other similarly named chairs in Jewish education (held by professor Sharon Feiman-Nemser) and Jewish educational thought (held by professor Jon Levisohn) at the Mandel Center for Studies in Jewish Education.
Since its establishment at Brandeis in 2002, the Mandel Center has generated new knowledge and ideas, and designed innovative tools and frameworks that have helped transform the world of Jewish education. The center has pioneered research on the teaching and understanding of classical Jewish texts in a wide range of settings, as well as new models of professional education for Jewish educators.
"We are profoundly grateful for the ongoing support of the Mandel Foundation, and the warm and deep partnership that has characterized our relationship for more than a decade," Feiman-Nemser says. "Looking ahead, we believe the new faculty chair reinforces Brandeis as the premier home for serious scholarship in Jewish education in the service of a more vibrant and dynamic Jewish future."
In its three years of existence, the Mandel Foundation's other major philanthropic focus at Brandeis, the Mandel Center for the Humanities, has quickly established itself as a hub of academic activity. The center has deepened humanities scholarship at Brandeis through new curricular and research activities while strengthening students' knowledge and critical thinking across multiple disciplines.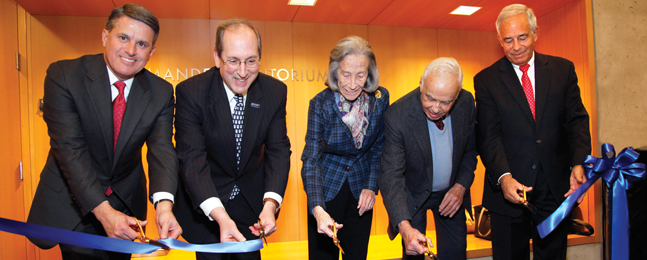 Perry Traquina '78, chair of the Board of Trustees; President Frederick Lawrence; Trustee Barbara Mandel, P'73; Morton Mandel, P'73; and Jehuda Reinharz, PhD'72, Brandeis president emeritus and president of the Jack, Joseph and Morton Mandel Foundation, cut the ribbon at the dedication of the Mandel Center for the Humanities auditorium. (Photo by Mike Lovett)