Angle of View
Dressing the Part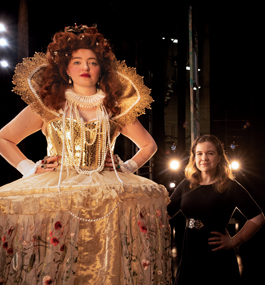 Photo by Tom Kates
The clothes couldn't be off the cuff in "Orlando," the Virginia Woolf novel-turned-play, performed in March on the Spingold Theater main stage for enthusiastic audiences.
"The play is a costume designer's dream but also an extreme challenge," says Kat Lawrence '22 (right), who double-majored in theater and music, and minored in film. Lawrence created all the production's costumes — including the gauzy gown worn by Lucie Blau '24 (left), who played Queen Elizabeth I — for her thesis.
Lawrence describes "Orlando" as "a fictional and fantastical biography" of the title character, who "experiences the world as both a male and a female." The play spans the Elizabethan Age, the Victorian Era and the 20th century.
To stay true to the story's shimmering, chimerical arc, Lawrence says she pulled ideas "from modern influencers who are pushing the boundaries of gender and fashion — for example, Janelle Monáe, Harry Styles and Lil Nas X — and juxtaposed them with historical fashion."