Sit down, please!
Sarah Bierman's site-specific art merges with nature and lets the community take a load off
The bottom of the slope in front of the Volen Center is known as the beginning of the uphill battle to the library and the Rabb steps. But now, thanks to Sarah Bierman '14, you can chill a bit before making the ascent — in a chair built around the trunk of a tree.
Bierman's art project is site-specific and located in two other outdoor places besides Volen: near the Carl and Ruth Shapiro Admissions Center and in front of the Goldman-Schwartz Fine Arts Studios. Each location features three different pieces of sitting furniture with trees growing out of them.
As an artist, Bierman is interested in seamlessly integrating her own creations into existing landscapes. Her current artistic inspirations, Cornelia Konrads and Allan Wexler, are known for creating thought-provoking, artistic interventions in outdoor environments.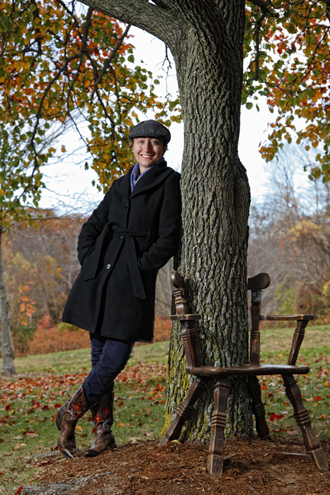 For now, there are only chairs at the campus installations. "Expect more to come!" says Bierman. "Like Konrads, I love to work with existing things and build my own structures around nature. I want to make you look at the space differently."
The aspiring art conservator is also intrigued by more traditional forms of artistic expression. For the past two summers, she went to Poland with Handshouse Studio, a nonprofit studio based in Norwell, Mass., to replicate a 17th-century wooden synagogue destroyed during World War II.
Last year, as part of a studio class, Bierman
installed roughly 100 wooden bunnies
on the library slope simply because it expressed her fondness for rabbits. Before the idea came to her, she had "eight or nine false starts," and "was a wreck," she says. "Suddenly, in mid-October, I was looking out at the hill from the library and thought, 'What if there were bunnies everywhere?'"
"Once I had that project under my belt, I had a lot more confidence that I could fuel art for myself," says Bierman, who has learned how to take the uncertainty of artistic inspiration in stride.
"If you can't be flexible enough to take change as it comes, you're not going to get anywhere," says Bierman. "Embracing change has become a lot easier — never completely seamless or easy — but it's something I'm okay with, and now something I welcome."
What's next? Don't be surprised to find houses popping up on campus soon. Bierman has already started sketches and maquettes for house facades she plans to build outdoors and integrate into existing landscape.
Return to the BrandeisNOW homepage