Ibrahim Sundiata to be celebrated at retirement
Affable and demanding, he shaped African and Afro-American Studies
Ibrahim Sundiata has done well for someone who, by his own admission, made a mistake when he chose the site for his dissertation fieldwork.
"Equatorial Guinea was an obscure and sanguinary place," the Samuel and Augusta Spector Professor of History said in a recent interview. "I ended up under house arrest. Then I went to Liberia. By the 1980s, both of them were on lockdown."
Sly humor, gentility and self-deprecation are hallmarks of Sundiata's style. It will be on offer for one of the last times in a long academic career Friday afternoon when colleagues, students and alumni gather from 2 to 4:30 p.m. in Rapaporte Treasure Hall to celebrate Sundiata on the occasion of his retirement.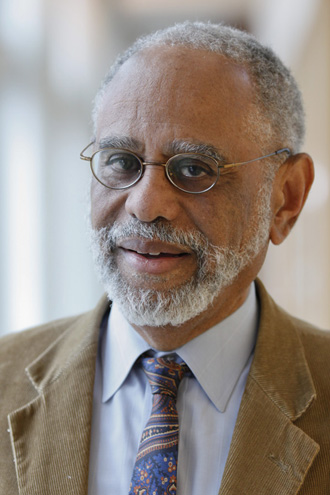 Ibrahim Sundiata
"I knew in high school that I wanted to be a historian," Sundiata said, recalling the influence of an adopted uncle who was a university librarian, and who gave him advanced reading at an early age.
He wavered between Latin America and Africa as an area of concentration, finally choosing Africa because of the post-colonial politics, anti-apartheid activities and independence movements of the time.
When he ran into difficulties maneuvering in post-colonial regimes that were often bloody and seldom free, "a friend said 'You've got to get interested in Brazil. You need a Fulbright.'"
Off he went to teach African history at the Federal University of Bahia in Salvador, Brazil, where he learned Portuguese and found a sort of second home. He has been there more times than he can remember. Sundiata taught at Rutgers, Northwestern – where he'd earned his PhD, and the University of Illinois at Chicago, then received an invitation to apply for the chairmanship of Brandeis' Department of African and Afro-American Studies.
Sundiata, who was born in Ashtabula, Ohio, left Brandeis from 1998 to 2002 to chair the Department of History at Howard University in Washington, D.C., where he grew up. Following a fellowship at Harvard's W.E.B. Du Bois Institute, he returned to Brandeis.
No university is perfect, he says, but "I've been other places and Brandeis has been a great experience for me. There is a certain openness. I never felt pressure to conform to anything, or have a certain political view."
"Brandeis is different – it really does engage in social justice, and the students are very bright," he says. "One of my greatest joys is I've had some very serious students who took on interesting projects and now are working for big NGOs in Latin America and Africa."
Faith Smith, a close colleague who is an associate professor of African and Afro-American Studies and English, said Sundiata is "someone who can turn current political life and also history into a joke or an anecdote that gives cheer. Connected to that is an extraordinary memory for dates, and also for film. His filmography is kind of astonishing."
In addition to his work on Africa and Latin America, she noted, Sundiata has had an abiding interest in the relationship between African Americans and Jewish Americans. He traveled to Israel in 2010 to deliver a paper on that subject at Ben Gurion University, and last year, as retirement loomed, he reprised a course he originated in the 1990s on the History of Black/Jewish Relations in America.
The author of five books, Sundiata also has lectured recently in Africa, Australia and at leading American universities. He won Brandeis' Lerman-Neubauer Award for Teaching and Mentoring in 2005.
Chad Williams, the current chair of African and Afro-American Studies, said that Sundiata's scholarship and his role in shaping the department "made Brandeis very attractive me. When I came to interview, he was incredibly gracious, as is his nature. He took it upon himself to show me the entire campus. He is a mountain of information about the history of the institution and the department, and made it very clear that Brandeis would be a great fit for me."
Return to the BrandeisNOW homepage