Pulitzer Prize-winning author addresses new students
First-years question Edward P. Jones on 'The Known World' and black slaveowners
The Class of 2017 was officially welcomed to Brandeis University on Sunday but got their first real taste of academic life at Wednesday's Helen and Philip Brecher New Student Forum, where, like true Brandeisians, they posed challenging and thought-provoking questions to Pulitzer Prize-winning novelist Edward P. Jones. For two decades, the New Student Forum has fostered conversations between incoming first-years and notable authors. Over the summer, students are asked to read a selected work and come to campus prepared to discuss it with classmates, faculty and the author. 
This year, the selection committee chose Jones' 2003 novel "The Known World," an epic work of historical fiction exploring the life of a black slaveowner in the antebellum South. It won the National Book Critics Circle Award and the Pulitzer Prize for Fiction in 2004.
"I can't really imagine a better way to start the year than to have us all come together and read the same book," President Fred Lawrence told the students packed into Spingold Theater. "It stands for what you will be doing for the next four years and indeed the rest of your lives: engaging in a quest for knowledge in the known world and the unknown world."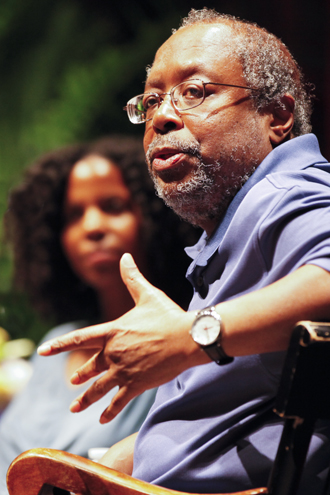 Edward P. Jones (Photo/Mike Lovett)
This novel is a reminder of just how short American history is, Lawrence noted. "These stories are not remote. They are very near to us, they are about us and they define us in ways that are inspiring and troubling, exciting and terrifying," Lawrence said. "Being engaged in that together is one of the most powerful and compelling parts of this exercise."
Jones famously got the idea for "The Known World" after reading a historical footnote that acknowledged the existence of black slaveowners. He spent the next 10 years constructing the story and building the characters.
"That one footnote allowed me to create an entire world," Jones told Associate Professor of English Aliyyah Abdur-Rahman, who moderated a brief discussion before opening the floor to students. "If black slave-owners did not exist, I would not have been able to imagine it."
There is something especially disturbing about a black person owning black slaves, Jones noted, but he was careful not to pass moral judgment on his characters. "As a storyteller, I have to give each character his or her due," he said. "You have to look at the totality of the [character]."
Earlier in the summer, many students participated in a Facebook discussion about the novel. And before coming to the event, the students took part in small group discussions with faculty members.
Jones said he was glad to hear the new Brandeisians had delved so deeply into the book and gleaned so much, as he himself is reluctant to analyze it. He doesn't think about meaningful character names, symbolism or political statements when he writes, he told the crowd. All he focuses on is writing a believable story. 
"It is my job as a writer to make you believe," he said. "It is 99.9 percent pure imagination."
Return to the BrandeisNOW homepage