Allyala K. Nandakumar appointed to U.S. Agency for International Development
Brandeis University professor Allyala K. Nandakumar has been appointed chief economist for global health in the Office of Health Systems, Bureau for Global Health in the U.S. Agency for International Development (USAID). 
Nandakumar, director of the Institute for Global Health and Development at the Heller School for Social Policy and Management, will provide intellectual leadership and support on health economics to USAID's global health work.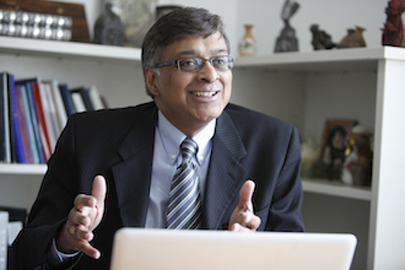 Allyala K. Nandakumar 
"I am excited and humbled by this opportunity to support USAID's efforts to end preventable child and maternal deaths and achieve an AIDS-free generation," says Nandakumar. "Optimizing outcomes from investments in health while keeping a sharp focus on social justice is what Brandeis stands for. It is my desire to bring these very principles to the work at USAID."
Nandakumar has worked for 25 years in health-care financing in developed and developing countries. His work has taken him to Bangladesh, Jordan, Mongolia, Sudan, Botswana, Western Samoa and Tonga, among other countries. 
He will continue to teach courses at Brandeis University on health economics. 
"We are delighted that professor Nandakumar has been appointed to this new position," says Lisa Lynch, dean of the Heller School. "He will be able to take his considerable knowledge of global health issues and engage in the information, review and evaluation of policies meant to protect the most vulnerable people around the world."
Return to the BrandeisNOW homepage