MS program helps people understand genetic facts
Brandeis genetic counseling program turns 20
Who is at risk of developing life-altering diseases? Do they want to know? And how can they process the results if the future looks threatening?

The first question has become more answerable with the implementation of genetic screening. The other two are tougher; answers depend on individual personalities and how people think.

How these questions are answered affect some of life's most vital decisions: Whether to have children, terminate a pregnancy or opt for prophylactic mastectomy in reaction to a genetic predisposition to breast cancer.

"As genetic counselors, our goal is not to give patients advice, but provide information so they can make informed decisions," says Beth Rosen Sheidley, professor of the practice of genetic counseling and co-director of research and professional development for the Genetic Counseling Program at Brandeis, a two-year master's degree program.

Genetic counselors work as members of a health care team, most frequently in a clinical setting where they analyze inheritance patterns and risk for recurrence, discuss options, and provide counseling to families. They also serve as patient advocates and refer individuals and families to community or state support services.
In addition they work in clinical research, public health, education and in private diagnostics labs in the fields of medical genetics and molecular biotechnology.

There are approximately 3,000 genetic counselors in the United States, and 31 master's programs. Sheidley was a member of the first Brandeis class, which entered in 1992 and graduated in 1994. A biology undergraduate, she was deciding between medical school and clinical psychology.

Sheidley says genetic counseling was an opportunity to combine her two interests. She worked for five years as a prenatal counselor at Brooklyn Hospital and St. Luke's -Roosevelt in New York, and then returned to Boston, where she transitioned into the specialty area of autism/psychiatric genetics, first at Tufts Medical Center, then at MGH.

In 2005 she returned to Brandeis to join the faculty. She also works as a genetic counselor in neurology at Boston Children's Hospital in the Epilepsy Genetics Program.

Students who enroll in the Genetic Counseling Program come from a wide range of educational and professional backgrounds. Some arrive with PhDs in the sciences; most do not. Courses during the two-year program range from basic sciences to clinical genetics, counseling and research.  

Students also take part in internships, working directly under a board-certified genetic counselor in an area hospital. Each student must complete three internships: one in prenatal genetic counseling, one in pediatrics and one in cancer and adult genetics.

"Our focus is making sure that students understand the basic principles of molecular biology and human genetics and reproductive biology so that they can then understand the clinical and medical genetics," says Sheidley. "When they're counseling someone they need to be able to explain genetic principles to families,."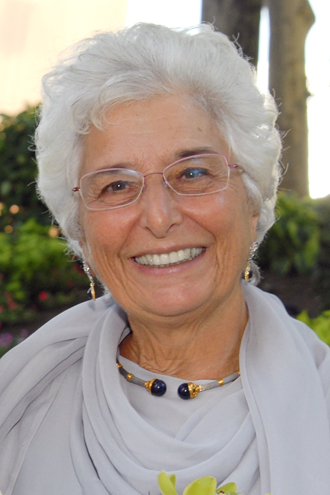 Judith Tsipis
The idea for the Brandeis program began when Judith Tsipis, professor of biology and founder and director of the Genetic Counseling Program, sat down for lunch with Eve Marder and Kaplana White. It was 1991 and The Human Genome Project was well under way.

"Eve said that she was reading an editorial in the journal Nature written by Nancy Wexler, who has done a lot of work on Huntington's disease," says Tsipis. "She said with all of the new genome research coming out, there was a need for more genetic counselors."

 "It was perfect!" says Tsipis, who has a PhD in biology from MIT. "I have a background in genetics, I love teaching and working with students, and I have had a child with a genetic problem. This is my way of helping others. It comes from the soul."

She spent the next seven months putting the program together.

Tsipis's son Andreas, who passed away in 1998 at the age of 22, had Canavan disease, a progressive neurological disorder that wasn't diagnosed until he was a teenager. She understands first-hand how information can make a big difference to families searching for answers.

Gretchen Schneider, professor of the practice of genetic counseling, and co-director of clinical placements for the Genetic Counseling Program, graduated with a master's degree in human genetics from Sarah Lawrence in 1992, the first school to offer a genetic counseling program. She was in clinical practice at Children's Hospital in Boston for eight years and coordinated a clinic for individuals with neurofibromatosis, a genetic nervous system disorder.

"If a parent has neurofibromatosis, they have a 50/50 chance of passing it on to each of their kids," says Schneider. "We saw families where a parent and one or two of the children were affected. We also had children with the disorder and no parental genetic tie."

Many parents, she says, chose not to have genetic testing because they were not sure of what they would do with the information.
 
Schneider joined the faculty in 2008, following six years with Harvard Medical School's Center for Personalized Genetics Medicine, where she focused on genetics education. She co-teaches a two-semester clinical genetics course with Dr. Joan Stoler of Boston Children's Hospital. The course covers the medical approach to the many types of diseases that one might encounter as a genetic counselor.

The class uses case studies to explore how a counselor would proceed when in actual clinical practice.

"The idea is to equip students with medical knowledge and counseling skills as they go out and see patients," says Schneider.

Facing a serious medical issue is always challenging. Having a support system in place, along with an understanding of what may be expected along the way, can be critical when it comes to making life-altering decisions.

Tsipis says the Brandeis program's focus on disability issues sets it apart from many other programs. Students participate in fieldwork placements in which they work in community- based agencies that serve people with special needs. They also participate in the unique Family Pals program, which pairs students with families of children who have a disability.

"The specific nature of the child's diagnosis is of less importance than the fact that the child's daily life is impacted by a set of challenges that are not typical," says Tsipis. 

Students visit with the family on three occasions over the course of the semester to better understand such things as what it feels like to push a child in a wheelchair and how it feels to have people stare at your child.

"This experience gives students a chance to find out what some of the challenges are to the family and directly interact with the child outside of a clinic setting," says Tsipis. "It really heightens an individual's awareness. Family Pals is the kind of experience students never forget down the road."
Return to the BrandeisNOW homepage