History of Holocaust literature explores genre
A guide to 100 books has been published by Brandeis University Press
It took nearly three years for David Roskies '69, PhD '75 and Naomi Diamant to choose what they considered to be the most important works in the genre of Holocaust literature.
They discussed and argued, considered and revised. They discovered new meaning in old classics and read new works, recently translated from Polish, Yiddish and Hebrew. They whittled a genre of thousands into a list of 100.
Brandeis University Press published the resulting book. Now, let the debate begin.
"I anticipated people would be angry and would disagree with some of our choices," said Roskies, who is the Sol and Evelyn Henkind Chair in Yiddish Literature and Culture at the Jewish Theological Seminary in New York. "But I also knew that once people started looking through the list, they would discover new things."
"Holocaust Literature, A History and Guide" is a two-part book. The first section explores the definition of the genre and categorizes writing about the Holocaust into four eras, from 1938 to present day. The second half is dedicated to The List, and includes 20 book covers, first editions in their original languages, including David Grossman's "See Under: Love."
It includes well-known titles such as Anne Frank's "The Diary of a Young Girl" and Elie Wiesel's "Night" alongside more obscure works, such as "This Way to the Gas, Ladies and Gentlemen," by Polish writer Tadeusz Borowski.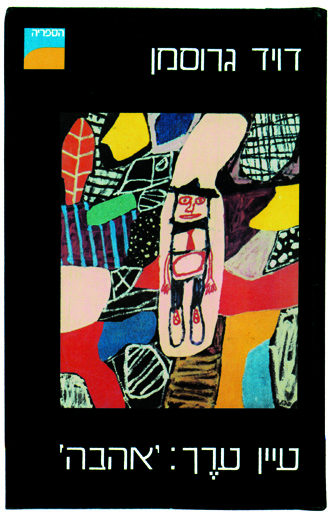 Cover of David Grossman's "See Under: Love;" art by Jean Dubuffet.
"This is not an authoritative, finished list," said Diamant, who has a PhD in English and Comparative Literature from Columbia University and is currently assistant dean at NYU Stern Global Programs at New York University. "This is a list that will always be provisional and it will change depending on how much people argue or reinforce the selections."Many Brandeis scholars are praising the book — even if, as Roskies and Diamant predicted, they don't entirely agree with every work selected for the list.  
Dawn Skorczewski, professor of English and the director of the University Writing Program, said she agreed with most of the works but was surprised to see the inclusion of Bernhard Schlink's "The Reader."
The novel, which tells the story of a young man's relationship with a former SS guard, humanizes a perpetrator of the Holocaust and blurs the line between victim and victimizer.
"The book teaches us to sympathize with a Nazi," Skorczewski said.  "Why do we need to learn to do that?"
On the other hand, Skorczewski, who teaches a class in Holocaust writing, was pleased to see works that don't shy away from the real horrors of the genocide.
"Often, your students are coming into class having only read Anne Frank, which has a romantic ending that gives the reader a sense of optimism," Skorczewski said.  "It's important for the students to read about what happened after they were taken away."
Lawrence Langer, professor emeritus at Simmons College in Boston and a scholar of Holocaust literature, agreed.
"The Holocaust is not a triumph of the human spirit," Langer said. "The Holocaust is about murder of European Jewry and that's what most books on the list are about."
The inclusion of fiction and poetry, in addition to the histories and memoirs, is especially important because it offers readers a different level of comprehension, Langer said.  
"When you read only the facts of the Holocaust, you want to say 'I don't believe people did that to other people'," Langer said.  "Some of the imaginative literature allows us to imagine what happened, not know what happened. It gives you images with which to bring the story to life."
Other scholars, including Brandeis' emeritus Professor Antony Polonsky, praised the authors for including so many lesser-known, non-English speaking writers.
Polonsky, a leading authority on Polish Jewish history, called the book a major contribution to the scholarship of Holocaust Literature. While he disagreed with several works on the list, especially the inclusion of Binjamin Wilkomirski's fraudulent memoir "Fragments: Memories of a Wartime Childhood," he said the list was an important push forward in recognizing the contributions of foreign authors in the United States.
"There is a marked resistance to translations and books written by people with names which seems impossible to pronounce," he said. "Let's hope this book helps overcome the provincialism of the US."   
For their part, Roskies and Diamant said they're glad the book is sparking conversation.
"I'd like to see someone get started on Part Two of the list," Diamant said. "But it probably won't be us."
Return to the BrandeisNOW homepage