Alum brings 'Seinfeld' characters into 21st century
Josh Gondelman '07 and Jack Moore's Twitter take on modern plots takes off
What if "Seinfeld" were still on the air? That's a question Josh Gondelman '07 and his friend Jack Moore posed to each other one lazy Sunday afternoon.
The result: @SeinfeldToday, a Twitter profile that now boasts more than 588,000 followers, and offers a variety of possible answers to the question. This month marks 15 years since the series finale aired, but the sitcom continues to run in syndication, and in the minds of Gondelman and Moore.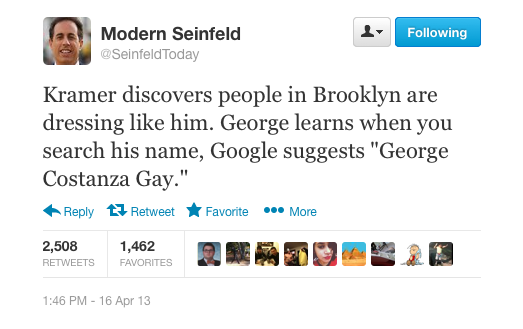 On a near-daily basis, the friends tweet 140-character synopses of the characters' trials and tribulations in the 21st century.
"How many Seinfeld episodes would just not exist if they'd had text messaging?" Gondelman says. "But the ones you would lose wouldn't compare to how many you'd gain."
Before the end of its first week on Twitter, the @SeinfeldToday handle had more than 100,000 followers. Time featured @SeinfeldToday on its list of the top 140 Twitter feeds of the year and the feed has received praise everywhere from The Atlantic to the Huffington Post to the New York Daily News.
"I think one reason is that the source material is so good," says Gondelman, who was 13 when the show ended. "The other is just Internet luck, or it's that algorithm of something old, plus something new, plus good timing, equals viral success.
"At first it was really easy. We had 15 years to draw on," says Gondelman. "Then it got tough. We burned through the obvious things – texting, Netflix, Craigslist – really quickly."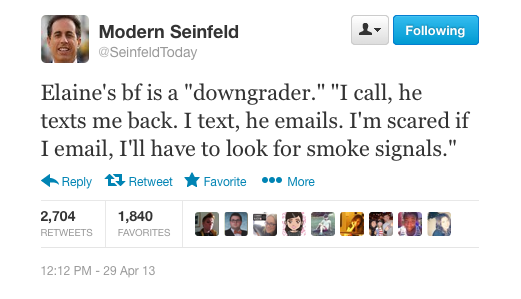 He says they plan to keep up the account as long there continues to be interest in it. So far, interest has come from a variety of high-profile directions. Even Jason Alexander, who played George Costanza, has lauded the account on Twitter, as have actors and comedians such as B.J. Novak and Jon Favreau.  
"A lot of people who would have no reason to be interested about anything we've done are enjoying our work and that's been swell," Gondelman said.
Gondelman is a freelance writer and comedian, who joined the improv comedy troupe To Be Announced during his freshman year at Brandeis. In his junior and senior years, he and his friends produced a half-hour to hour sketch comedy show called "Friends Like These" at Chum's each Saturday, and began performing at comedy clubs in the area.
There was Dick Doherty's in Boston and The Comedy Studio in Cambridge. Sometimes he'd open for national acts who performed on campus like Eugene Mirman, Christian Finnegan and the Walsh Brothers. In Boston he also recorded a comedy album that is available, "Everything's the Best."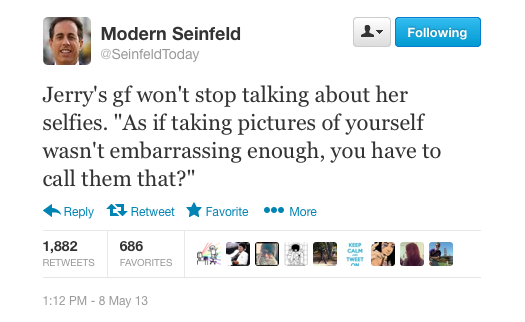 Now, he and Moore are putting together a Seinfeld Today book proposal and hopes the result will live up to his mentors' expectations.
"I got great instruction from people I really want to make proud," he says, including Melanie Braverman, a former poet-in-residence, Associate English Professor Mark Weinberg and his thesis advisor, Associate Creative Writing Director Stephen McCauley. "Brandeis created a great work ethic for me and it was a really great community that let me try a lot of things."
Return to the BrandeisNOW homepage