Strangers on the prairie
Karen Hansen's new book uncovers complicated history of Scandinavian, Native American coexistence in North Dakota
It was an intriguing detail in the stories her grandmother used to tell that set
Karen Hansen
on a 15-year journey through her family's, and the country's, past.
Hansen's maternal grandmother, Helene Haugen Kanten, came to America in the first years of the 20th century, a young Norwegian girl with golden plaits coiled on her head. Her family planned to homestead in North Dakota.
In fact, the story went, the family ended up homesteading on an Indian reservation, side by side with the Dakota Sioux tribe.
All that was true, Hansen would eventually discover. But the Brandeis professor of sociology and women's and gender studies didn't stop there. In time, she was able to plumb a much more complicated mystery: why her grandmother used to say that Scandinavian homesteaders had "stolen the land" from Dakotas.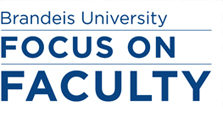 With support from the
John Simon Guggenheim Memorial Foundation
and the
National Endowment for the Humanities
, Hansen began digging and found that her family story was part of a much larger American saga. What she learned formed the basis for her new book, "Encounter on the Great Plains: Scandinavian Settlers and the Dispossession of Dakota Indians, 1890-1930."
Hansen's family lived in a tiny shack on a hill on North Dakota's Spirit Lake Dakota Indian Reservation. Surprisingly, Hansen found that her grandmother's mother was far from the only Scandinavian or the only woman to own land on the reservation at that time.
The Dawes Act of 1887 allotted 160 acres of reservation land to each Dakota male and 80 acres to Dakota women and children. The rest was open for white homesteading. This meant that approximately 100,000 of the 240,000 acres of the Spirit Lake Reservation were available. By 1929, Scandinavians owned more land than the Dakotas.
Poring over local land-ownership records and complaints lodged with the Bureau of Indian Affairs, as well as reading and conducting 130 oral histories with Scandinavian and Dakota elders, Hansen learned about the conflicting sense of community and inequality in which her grandmother was raised.
"We hear a lot and know a lot about Indian wars of the 19th century, the story of dispossession and how dishonorably the U.S. government acted and we know something about contemporary reservations, rife with disease and social ills," Hansen says. "But we don't know much about the period in the middle.
"The Norwegians were farmers," she says. "They came to accumulate land, to make farms to pass along through their family, and Dakotas  didn't share that same agricultural sensibility or value acquiring things or land."
Though the Scandinavians benefited from generous homesteading policies, they were also impoverished immigrants trying to begin a new life, says Hansen. They and Dakotas shared an outsider status even as they competed for land and the power it conveyed.
Hansen, who is also the author of "Not-So-Nuclear Families: Class, Gender and Networks of Care" among other books, has long documented disparities in equality and access.
In "Encounter on the Great Plains" she writes, "This book is my effort to reciprocate" for the generosity of those who shared their sometimes tragic family stories with me. "I now realize that I came to this project in order to repair my fractured sense of ethnic identity and remedy my placelessness, as a daughter of an immigrant mother and a restless father who thought that frequent moving was a way to repair mistakes and start over."
Return to the BrandeisNOW homepage