The poet's poet
Former students remember Allen Grossman
Everyone who knew poet and beloved teacher Allen Grossman, PhD'60, knows the fantasy echo story. Even those who didn't know the man know the story. 
 "Allen had such a huge aura of intellectual authority that we all felt (often) unable to keep up with his flow of thought yet we assumed it all made great sense and we tried to remember or to write down everything he said," former student and literary collaborator Mark Halliday, PhD'83, remembers. "There was a moment, in an undergrad class, when a student anxiously asked Allen to explain the term 'fantasy echo' which had come up repeatedly in the lecture. Allen was puzzled! It turned out that he had been saying 'fin de siècle' [meaning end of an era] and the student had heard it as 'fantasy echo.'"
The legendary story speaks to so many aspects of the poet's personality, Halliday says, starting with Grossman's academic stature. After all, this was the man Brandeis founding president Abram Sachar described as having a "voice that sounded like Winston Churchill." 
"Students always felt 'This stuff he's saying is weird but it's Allen Grossman, so it MUST be deep,'" recalls Halliday, who co-wrote with him "The Sighted Singer," a book on poetics.
It also speaks to his humility. 
"At such moments, Allen could see the humor in the situation," Halliday says.  "Allen's ability to be surprised into awareness of comic irony was a very lovable quality in him."
A renowned poet, prolific writer, celebrated teacher and occasional voice of the community, Grossman died June 27 at 82. The Paul E. Prosswimmer Professor of Poetry and General Education, he taught at Brandeis from 1957 to 1991.  After Martin Luther King Jr.'s assassination, the university turned to Grossman to find words for the unspeakable. His emotional eulogy is preserved in The Robert D. Farber University Archives & Special Collections. 
In turn, Brandeis became part of Grossman's poetic landscape. The campus inspired many of his most famous works, including "Sentinel Yellowwoods," a poem about two trees that stood in the Mandel Humanities Quad, near Grossman's office. 
BrandeisNow asked several of Grossman's former students, accomplished poets and writers in their own right, to share their recollections of the man known as a poet's poet.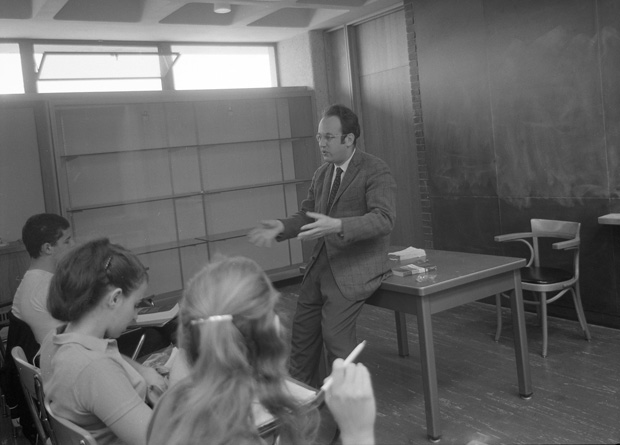 Allen Grossman, 1964
Ha Jin, PhD '93
Jin is an author and professor of creative writing at Boston University. He has twice won the PEN/Faulkner award.
At the beginning of a semester, Allen would spend more than 30 office hours a week to meet with students. He was a great lecturer, especially powerful when he addressed a large audience. He had a deep, resonant voice. When he was lecturing, people could hear him on a whole floor.
He once told me, "For you, creative writing must come first." Yet, during my early years of teaching, I often felt his voice rising in me when I was in front of my class.  
He was such a rigorous teacher that a classmate of mine from Africa once copied many paragraphs from a book when he submitted a chapter of his dissertation, to see if Allen would notice. Allen corrected all those paragraphs as well. For him, those were simply badly written.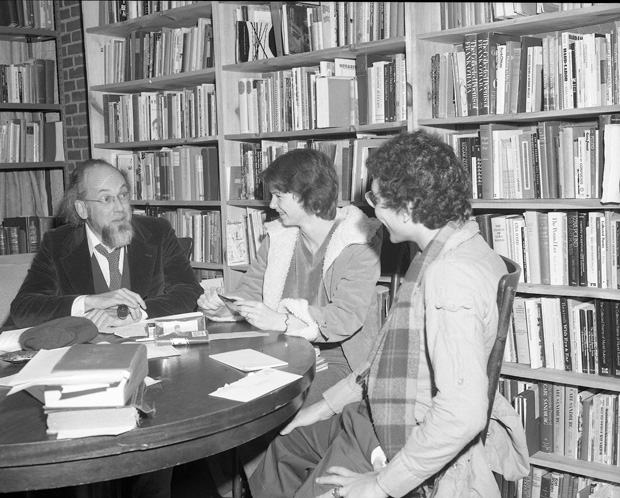 Allen Grossman, 1980
Mary Leader, PhD '00
Leader is a poet and former Oklahoma Assistant State Attorney General. She recently retired from teaching creative writing at Purdue University in Indiana. 
I have two favorite Allen Grossman stories. One I lived and one I heard.
One day, I took into Allen Grossman's office, for proud display, my purchase of a brand-new, three-volume hardcover boxed set of Emily Dickinson's poems. Gray volumes in a red box. Grossman put down his pipe and patted the top of the box, telling me "That's your man." I took absolutely no feminist umbrage, neither then nor a moment earlier, when he called my work "the woman's poem" because he said in the same breath that it was of utmost importance, this category of poetry.
The story I heard took place at a poetry reading of his. All the Cambridge/Boston poetry bigwigs were there because after years and years of writing that went extremely underappreciated, his power as a poet was coming to be understood. After the reading, instead of going up to the bigwigs, he went immediately up to Arlene Weisman, a wonderful woman who was then the main secretary in the English department office, and asked her if she liked his poems. "Yes, Allen," she said, "I did."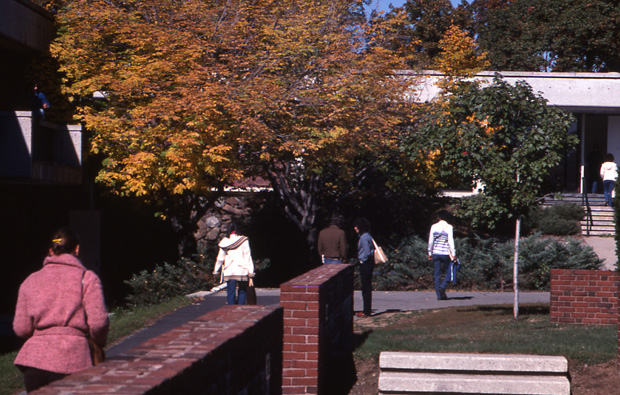 Yellowwood Trees in the Mandel Humanities Quad
An excerpt from "Sentinel Yellowwoods"
Sweet sweet sentinel yellowwoods lutea lutea 
Guarding my track morning and evening, and gracing the air 
With odors and blossoms to the left on the side-hill 
And the right near the wall. Sweet sweet the one and the other. 
Seven years not seeing them, seven seeing them but not 
Knowing a name for them, and seven years naming them too. 
Sweet sweet sentinels lutea lutea Cladrastis lutea 
Odorous silent adorning lutes. 
Now and then, how full 
The world is. Look at the yellowwoods! Look at them 
Lion-like watching the way, in the morning to work and 
 At evening to this kind of singing 
Lion-like waiting all the more patiently now I have 
Named them, come into the strength I can render account 
Of the beautiful way I am not always sad. 
Sweet sweet 
The shadow of yellowwoods, even in autumn, even at 
Evening. I am going to die soon, and their shadow foretells it 
Enlarging the world. 
I can see it without me. 
Return to the BrandeisNOW homepage