Heller recognizes faculty, staff excellence
Heller School Dean Lisa Lynch recently recognized Theodore A. Johnson, Mari Fitzduff, and Meaghan Cummings with the school's annual awards for mentoring, teaching and staff service, respectively, for their commitment to rigor and creativity in teaching, learning, and supporting a community of learning.
Theodore A. Johnson
, assistant professor in the program in Coexistence and Conflict and the advising head for the COEX-SID Dual Degree program, was awarded the 2014 Mentoring Award for outstanding support and encouragement of the research, education, professional and personal development of Heller students.
Before coming to Brandeis, Johnson was a senior program manager and legal advisor to Conflict Management Group and Mercy Corps in Cambridge, Mass. He worked extensively as an international negotiation-training consultant for governments, corporations and international organizations. He has worked in post-apartheid South Africa, with Greek and Turkish Cypriots towards bi-communal capacity building and with universities and political leaders in northern and south central Iraq to develop joint problem-solving skills and strategies. He has been an advisor to several UN Agencies including the World Health Organization and the Food and Agriculture Organization. Johnson is a member of the California and American Bar Associations.
"Professor Johnson is accessible and always willing to offer me the needed advice and guidance," wrote one student. "He helped me to understand that the academic discipline requires a lot of determination, focus and attention to detail, which helped shape my goals and perspective in my chosen career path."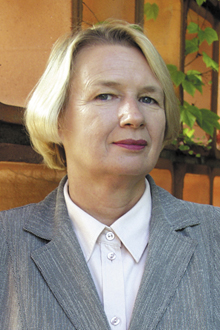 Mari Fitzduff, professor in the program in Coexistence and Conflict, was awarded the 2014 Teaching Award for excellence in fostering excitement about learning, stimulating intellectual curiosity and challenging and inspiring students to become engaged citizens of the world.
Before coming to Heller, Fitzduff served as chief executive of the Northern Ireland Community Relations Council, which was at the forefront in developing governmental policies and local community programs to tackle many decades of violent conflict. More recently she served as director of UNU/INCORE, a United Nations University center and one of the world's leading organizations for research on conflict. She has served as a consultant and trainer on conflict programs in the Middle East, Sri Lanka, Indonesia, the Basque country and the CIS states. Her publications include "Community Conflict Skills: A Handbook for Anti-Sectarian Work" and "Beyond Violence: Conflict Resolution Processes in Northern Ireland," which won an American Library Association Notable Book award.
"Professor Fitzduff shows her commitment to the education of the students in every class and conversation out of class," wrote one student. "She encourages the students to learn more and to feel capable of reaching professional success. She is an excellent professor with great empathy. Her classes are interesting and mind opening."
Meaghan Cummings
, senior department coordinator in the Heller Dean's Office, was awarded the 2014 Staff Service Award, which recognizes extraordinary work by non-academic staff to "organize an effective environment for learning, teaching, and research and foster excellence in these areas."  Cummings received the honor for her outstanding contributions to the community and its shared mission of using knowledge to advance social justice.
Return to the BrandeisNOW homepage