Violist joins Lydian String Quartet, Brandeis
The Lydian String Quartet and Brandeis University are thrilled to announce that violist Mark Berger will be joining the ensemble and the music department faculty.
An international search led to Berger, who is familiar to audiences through his performances with the Boston area's finest musical organizations, including the Boston Symphony Orchestra, Emmanuel Music, Boston Modern Orchestra Project, Boston Musica Viva, and the Worcester Chamber Music Society. He has recently been featured as violist with the BSO Chamber Players and composer/pianist Thomas Adès, as a soloist in works by Gérard Grisey and Jérôme Combier with Sound Icon, and has premiered a number of works by established composers. Berger also has been affiliated with a number of local colleges and summer festivals as a private teacher, chamber music coach, and teacher of music theory and composition.
Also an acclaimed composer, Berger has been awarded prizes from organizations such as the League of Composers/ISCM, ASCAP and the Rapido Composition Competition. He has composed both instrumental and vocal music, and earned a Ph.D. in composition from Brandeis.
Berger will begin his tenure as associate professor of the practice at Brandeis in July. The Lydian String Quartet's regular professional season will begin fall of 2014.
"I am thrilled that my future includes the opportunity to make music at the highest level with such esteemed colleagues as the Lydian String Quartet," said Berger. "The opportunity to commune on a regular basis with the greatest works of the classical chamber music canon while at the same time pushing boundaries through new works with cutting edge composers via the LSQ Commission Prize is a dream come true."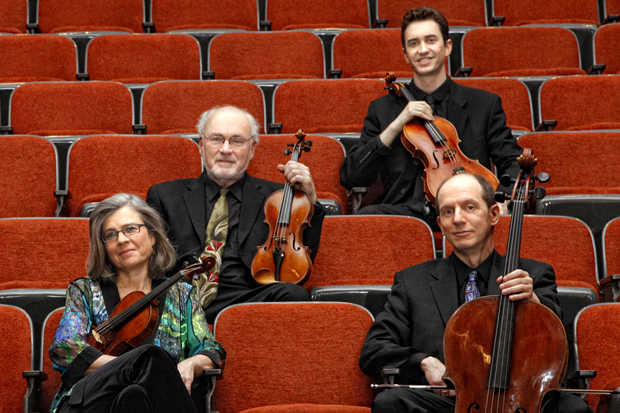 From left: Judith Eissenberg, Daniel Stepner, Mark Berger and Joshua Gordon
He fills the position of founding member and violist Mary Ruth Ray (1956-2013). The other members of the ensemble are founding member and second violinist Judith Eissenberg, cellist Joshua Gordon and first violinist Daniel Stepner.
The Lydian String Quartet, formed in 1980, has inspired critical acclaim worldwide. The Quartet's special flair and interpretive mastery of standard and contemporary repertoire has won the ensemble prizes at international competitions in Canada, France, England, and the U.S. (where they garnered the prestigious Naumburg Award for Chamber Music). Through concerts, recordings, workshops, lectures, and master classes, the Lydians bring to life music spanning two-and-a-half centuries. Their programming of traditional and contemporary, formal and informal, helps to build new audiences for the spiritually refreshing world of chamber music.
They have recorded more than 20 CDs of music from Beethoven, Brahms, and Schubert through Hyla, Boykan, Ornstein, Persichetti, and Wyner. Their recording of John Harbison's String Quartet No. 3 and "The Rewaking" was chosen by both The New York Times and The Boston Globe as one of the best classical recordings of 2001. Their recent recording of the first four string quartets of John Harbison was the recipient of a Copland Fund grant and was released by Centaur in 2009.
The Lydian String Quartet's repertoire for the 2014-15 season will include string quartets by Haydn, Philip Glass, Elliott Carter, Ben Johnston, Charles Ives and Evan Ziporyn (Sulvasutra for string quartet, pipa and tabla, with guests Yihan Chen and Sandeep Das.)
Return to the BrandeisNOW homepage