When the Berlin Wall fell
This week, the world marks the 25th anniversary of the fall of the Berlin Wall. Sabine von Mering, associate professor of German and women's, gender and sexuality studies, and director of Center for German and European Studies, shares her memories of growing up in a divided Germany and being at an aunt's birthday party in West Germany when the East German government allowed its citizens to cross freely into West Berlin on Nov. 9, 1989.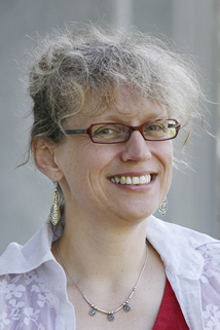 By Sabine von Mering
The fall of the Berlin Wall will always be a reminder that my cousin Jan is a lot gutsier than I am.
Nov. 9, 1989 was a Thursday. My family had plans to gather for my aunt (tante) Ulla's 50th birthday in Oldenburg, West Germany, that weekend. We're a big family. Like me, Ulla is the oldest of six siblings. Tante Ulla is great at organizing parties, and she always invites everybody, including her more than 20 nephews and nieces. You didn't miss Tante Ulla's birthday parties. Many of us travelled long distances to be there. It was going to be a big celebration, with a festive meal and lots of dancing.
I was born in West Germany in 1967, six years after the Berlin wall had been built. My generation grew up with the divided Germany. Bonn was our capital. As children we thought the country's division was the deserved punishment for what Germany had done in WWII. It wasn't until many years later that I realized it made no sense that only the East Germans were punished.
My family had friends in East Germany. We would visit them occasionally. Arranging those visits was extremely complicated. Traveling across the border was a scary process. My parents always said, "Children don't speak at the border." One time my father was chatting with what seemed to be a friendly border guard. Handing him back our passports, she asked "You don't have any books with you, do you?" My father shook his head no. But my little brother, probably worried that our father would get into trouble if he lied, cried "but there are lots of books down in my backpack under all the sweets!" Suddenly, the friendly border guard was not so friendly any more. She ordered us to exit the car. Our luggage was thoroughly searched. They even removed the upholstery of the car to look underneath. Mickey Mouse magazines and theological literature were confiscated as "fascist propaganda material."
You had to go through a registration process the day after you arrived. I remember being struck by how grey and empty the streets were. The air smelled strongly from the coal-fired power plants and the funny little Trabi cars that drove on some mix of oil and gas. They forced you to exchange a high amount of deutsche marks into ostmarks per person per day, because East Germany urgently needed the foreign currency. Only there was hardly anything to buy in the stores. Most shop windows were empty. Except for the bookstore. We received a lot of ostmarks for our deutsche marks, and everything was extremely cheap. I remember buying lots of sheet music, records and children's books.
Later we travelled back and forth by train. On the return trip to the West the trains were sealed before they were allowed to travel through the German Democratic Republic (GDR). GDR border guards would patrol the hallways and look for potential Republikflüchtlinge (East Germans trying to flee to the West). I remember being terrified once when I briefly lost my family on the train and realized I had no papers on me to prove I was from the West. Another time I had witnessed two guards forcing an old-age pensioner (in the 1980s those over 65 were allowed to travel to the West) to empty her luggage. They seemed to tease her about her travels and to enjoy how scared she was. She had to empty everything, even her purse. They made her screw open her hand lotion and toothpaste. In the end her belongings were littered all over the compartment. Then the guards left her to pack it all up again.
Our friends' children were good students, but their parents refused to allow them to enter the GDR youth organization FDJ [Freie Deutsche Jugend or Free German Youth], and the parents themselves were not in the Socialist Unity Party (SED). As a result, the kids could not attend university. They became carpenters and electricians instead.  German Chancellor Angela Merkel, who grew up in the GDR, was recently criticized for her role as secretary for "agitation and propaganda" in her local FDJ chapter. She denies having had any ideologically relevant function, but like the majority of people, she was obviously not willing to forgo the opportunity to study.
The night before Tante Ulla's party, news broke that the GDR had opened the border in Berlin. Of course we had been following the dramatic developments in the weeks and months before—the candlelight peace demonstrations that began in Leipzig and the hundreds of thousands of GDR citizens who had started to flee to the West via Hungary. (West German Foreign Secretary Hans-Dietrich Genscher allowing thousands who had barricaded themselves in the West German Embassy in Prague to come to West Germany.) Still, the fall of the Wall took us all by surprise. We were glued to the television set, tears in our eyes. We just couldn't believe that it was true. Then came the real shocker: Tante Ulla's son Jan declared that he would go to Berlin instead of coming to his mother's 50th birthday party. "This is history in the making, and I'm going to be there!" — and off he went. We had to dance without him. Tante Ulla was mad. The opening of the Berlin Wall had ruined her birthday party. I didn't have the heart to disappoint her then, but later I often wished I had had the guts to join Jan and dance on top of the Berlin Wall instead.
Return to the BrandeisNOW homepage