Campus ramping up for Homecoming, Fall Fest
Dave Coulier, star of the hit television show "Full House," to perform at Fall Fest
The Brandeis campus will be abuzz with visitors and activities the next two weekends, starting with Homecoming and followed by Fall Fest.
Homecoming
Homecoming 2014, Oct. 17-19, will offer students, alumni and their families and friends the opportunity to show their Brandeis pride and cheer on the Judges on the soccer field and in the pool. There also will be alumni games in men's and women's basketball, baseball and softball. A full schedule is available online and registration is required.
Brandeis takes on Carnegie Mellon University in soccer on Friday, Oct. 17. The men (11-1) open at 5 p.m., followed by the women's team (11-2) at 7:30 p.m. Fans attending the game are encouraged to participate in the national Be Bold, Be Bald fundraising campaign to raise money for cancer research and care. Brandeis baseball players James Machado and Max Berner and their classmates are coordinating the campus event and are encouraging Brandeis students, faculty and staff and those attending the soccer matches to participate.
On Saturday, Oct. 18, Brandeis will host Wheaton College in its first swim meet of the season at 1 p.m. The afternoon will also feature the alumni games for men's and women's basketball, baseball and softball. At 5 p.m., the Hiatt Career Center will host an Alumni Athlete Career Panel.
The homecoming carnival, 10:30 a.m.-4 p.m., will kick off activities for Sunday, Oct. 19, and will feature a petting zoo, pony rides, pumpkin painting and other family-friendly activities. The soccer teams will host Emory University, with the men playing at 11 a.m., and the women kicking off at 1:30 p.m. Swimming and diving will also hold their alumni meet at 11 a.m.
Fall Fest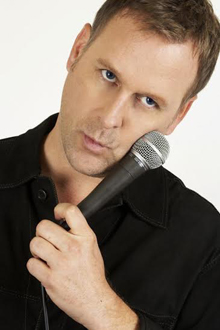 Dave Coulier
The following week, Oct. 23-27, Brandeis hosts its annual Fall Fest, which includes the parents' weekend. Students will have a chance to show their families what the Brandeis experience means to them and to enjoy a variety of activities that play on this year's theme, Family Game Night.
Parents will be able to sit in on some of their child's classes, attend information sessions and participate in a wide variety of student and university-sponsored events. They also are invited to join their student to see Dave Coulier, star of the hit television show "Full House," perform his "Sit Down and Stand Up" act in the Gosman Sports and Convocation Center on Friday, Oct. 24, 8 p.m. Tickets are required and can be purchased at Brandeis Tickets.
Students and parents will also have the opportunity to visit the Rose Art Museum, see the play "Angels in America," join the Interfaith community in religious services, and play the trivia-based game ThinkFast for cash and other prizes, and run a 5k for prizes and to support Chabad at Brandeis. Shuttle service will also be running throughout the weekend to provide students and their families with regular transportation to Boston.
A full schedule of events is available online, and registration is required.
Return to the BrandeisNOW homepage