Lydian String Quartet set to open season, joined by new violist
Mark Berger PhD '12 joins group at viola
Brandeis' internationally recognized chamber music group,
the Lydian String Quartet
, will open its concert season with performances of compositions by Franz Joseph Haydn, Phillip Glass and Elliott Carter, and introduce its newest member.
Violist
Mark Berger
PhD 
'
12 joins violinists
Daniel Stepner
and
Judith Eissenberg
and cellist
Joshua Gordon
for "It's About Time!" Saturday, Nov. 8 at 8 p.m. at Slosberg Music Center. Tickets are available
online
, by phone at (781) 736-3400, or in person at the ticket office in the Shapiro Campus Center. Check out a sampling of the quartet's sound on
the group's YouTube page
.
A Minnesota native, Berger frequently performs with New England's top orchestras including the Boston Symphony, Boston Pops, Emmanuel Music and the Boston Modern Orchestra Project.  He is a member of the Worcester Chamber Music Society and Music at Eden's Edge, and has been a guest artist with the Boston Symphony Chamber Players, Boston Musica Viva and Radius Ensemble.
The following Q&A with Berger first appeared in State of the Arts magazine: 

You have an incredibly productive freelance career as a performer and composer. What drew you back to Brandeis?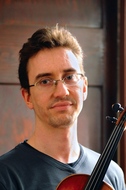 It's a dream come true. The opportunity to make music at the highest level with these esteemed colleagues. To commune on a regular basis with the greatest works of the classical chamber music canon. And by way of the LSQ Commission Prize, to push boundaries through new works with cutting-edge composers. Obviously, I'm very comfortable here at Brandeis. The department is warm and friendly. I love playing in the Slosberg Recital Hall. Acoustically, it's perfect for a chamber group.  
You've also performed in some unusual spaces, with unusual collaborators.
Like on an urban basketball court? Yes, I have, as part of a string octet accompanying young rappers and street dancers in the spoken-word opera "Hoop Suite," a collaboration between choreographer Anna Myer and the North American Family Institute. 
What's unique about being a performer who's also a composer?
I feel very much at home when I am working with other composers and learning the nuts and bolts of music that is new or unfamiliar. The LSQ has always had a strong tradition of working with young composers, both here at Brandeis and in concerts outside of Boston. I think my training and experience as a composer certainly jibes well with that mission.
And what's your role as the violist in the quartet? 
The viola is an inner voice of the group. Inside the harmonies, inside the texture, sometimes providing bass, sometimes providing rhythmic drive, occasionally rising to the top. For example, in the Ravel quartet, there are many gossamer textures where the lines flow like water. I have to make my sound dissolve into the quartet's texture so that even though the viola is contributing its own pitches and rhythms, the identity of my sound is fused together with the rest of the quartet. But at other times, such as in the quartet that Kurt Rohde composed for us [for the 2012 Lydian String Quartet Commission Prize], the viola soars in an extended solo based on the distorted guitar hooks of a Jimi Hendrix tune. That kind of versatility is endlessly challenging and tremendously rewarding to me as a musician.
How do you develop that sound with the rest of the quartet, to translate that into something that we hear?
We typically rehearse for three hours a day, four times a week, and half of that might be talking. We talk through decisions about how to shape the music, what we want to achieve. Recently, to prepare for a video project that will allow people to get to know us as performers, we recorded and listened closely to our rehearsals every day for several weeks. 
What lies ahead for the quartet?
This is a time for us to try new things, to chart our course forward. Over the past year I've felt a sense of development, that we're moving in a good direction. We have an incredible season. I'm particularly excited about playing Elliott Carter's first quartet — one of my all-time favorite pieces of music — and Evan Ziporyn's Sulvasutra for string quartet, pipa and tabla, with guests Yihan Chen and Sandeep Das.
What can concert-goers expect this season?
Our Nov. 8 concert explores the fascinating and contrasting ways that we experience musical time. Haydn's String Quartet in F, Op. 50, No. 5 is subtitled "The Dream," an apt description of its beautiful slow movement, which seems to inhabit an otherworldly dimension where time stands still. Similarly, the repetitive patterns and driving rhythms of Philip Glass's String Quartet No. 5 have a hypnotic effect that places the listener into a sort of alpha state that gradually builds to an ecstatic climax. 
The concert culminates in Elliott Carter's monumental String Quartet No. 1. Based on the contrast between conscious or chronological time and a subconscious "dream time," this piece has it all — the entire universe of modern musical expression layered into an epic kaleidoscope of sound.
Our spring concert, on April 18, 2015, begins with Ben Johnston's stunning String Quartet No. 4, a set of increasingly rich and ecstatic variations on "Amazing Grace." The first half closes with transcendental grandeur in what is perhaps the quintessential American string quartet — Ives' String Quartet No. 2. 
The second half brings in two of the most exciting artists on the world-music scene. Tabla virtuoso Sandeep Das and master of the pipa (ancient four-stringed Chinese lute) Yihan Chen perform a dazzling piece by MIT's Evan Zipryn, in which Eastern and Western musical traditions fuse into an ecstatic musical melting pot.
Return to the BrandeisNOW homepage