New England Philharmonic to premiere David Rakowski symphony
David Rakowski, the Walter W. Naumburg Professor of Composition at Brandeis, will have his fifth symphony premiered by the New England Philharmonic Orchestra on Oct. 25.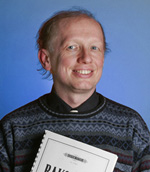 "Dance Episodes" will be performed at the Tsai Performance Center in the opening show of the orchestra's 2014-2015 season. Each year, a composer in residence writes a piece for the orchestra and works with conductor Richard Pittman on the score. Rakowski is currently serving as composer in residence for the orchestra. Rakowski is a two-time finalist for the Pulitzer Prize in music and has had his compositions played around the world.
The performance of "Dance Episodes" will be the world premiere of the symphony and played as part of a two-part program titled "Shall We Dance" that also includes the world premiere of Bernard Hoffer's "Ligeti Split."
The show and the upcoming season for the orchestra were recently featured on WBUR's The Artery.
More information on the performance can be found on the New England Philharmonic Orchestra's website.
Return to the BrandeisNOW homepage