Antony Polonsky appointed historian of new Polish Jewish museum
Museum of the History of Polish Jews to open in Warsaw Oct. 28
Antony Polonsky
, the Albert Abramson Professor of Holocaust Studies, has been named the chief historian of the new Museum of the History of Polish Jews in Warsaw.
Polonsky has dedicated his career to the study of Polish and East European Jewish history and is considered one of the most eminent scholars on the subject.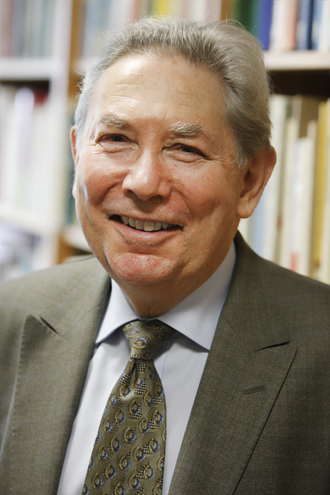 "My appointment as chief historian of the Museum of the History of Polish Jews in Warsaw is the culmination of more than 35 years of work on the history of Jews in Poland and Polish-Jewish relations, much of it carried out at Brandeis," Polonsky said. "This remarkable museum with its striking building will not only make better known the complex history of Jews in the Polish lands but will act as a major stimulus to scholarly investigation in Poland, Europe, Israel and the rest of the world. I feel very privileged to be part of the Museum team."
The museum is located on the site of the first battle in the Warsaw ghetto uprising in April 1943, adjacent to the memorial for the uprising. It started hosting temporary exhibitions last year and its core exhibition, covering the thousand-year history of Polish Jews, is scheduled for a grand opening Oct. 28.
The appointment is the latest honor in Polonsky's distinguished career. He is the founding editor of the academic journal "POLIN: Studies in Polish Jewry" and a co-founder and vice president of the Institute for Polish-Jewish Studies. His three-volume book, "The Jews in Poland and Russia," won the Kulczycki Book Prize in 2011 and the Pro Historia Polonorum Prize in 2012.
"Dr. Polonsky provides invaluable insight and historical perspective to this unprecedented museum, telling the story of a millennium of Polish Jewish history – part of my own family's story and that of more than 70 percent of the world's Jews," said Tad Taube, chairman of Taube Philanthropies and one of the museum's benefactors.
Polonsky began teaching at Brandeis in 1991 and has previously served as the Walter Stern Hilborn Chair in Judaic and Social Studies and Chair of the Department of Near Eastern and Judaic Studies. Since 1999, he has been the Albert Abramson Professor of Holocaust Studies, a joint position between United States Holocaust Memorial Museum and Brandeis.
Return to the BrandeisNOW homepage