A Balancing Act: The Liberal Arts Research University in the 21st Century
Brandeis President Frederick M. Lawrence was joined by faculty for a discussion that celebrated his tenure and looked to the future
When University President Frederick M. Lawrence was inaugurated in 2011, he outlined a plan to secure Brandeis' place as an elite liberal arts university.
"I believe with all my heart that a true liberal arts education is the most practical education there is," Lawrence said in his inaugural speech. "A real practical education provides the skills to succeed in the workforce and society generally, not only on the day of graduation, but 10 years later, and 20 years later, and 30 years later and more."
Excelling as both a liberal arts institution and research university has been a focus during his tenure, and in an event that celebrated his presidency and looked toward the future, Lawrence and four faculty members tackled the subject in a colloquium titled "The Liberal Arts Research University in the 21st Century." 
Lawrence was joined for the discussion April 22 in Carl J. Shapiro Theater by Eric Chasalow, dean of the Graduate School of Arts and Sciences and Irving G. Fine Professor of Music; Sarah Lamb, professor of anthropology; Robin Feuer Miller, Edytha Macy Gross Professor of Humanities and professor of Russian and comparative literature; and Gregory Petsko, professor emeritus of biochemistry and chemistry.
The panel discussed the challenging balancing act of liberal arts universities to teach the practical and train for the real world and this belief that education must be something larger than that.
Petsko said the process of striving toward that balance makes Brandeis and other liberal arts institutions vibrant, exciting and interesting places. He compared it to walking a tight rope.
"When you think about a balancing act, it's never complete. You're constantly rocking back and forth, making tiny adjustments all the time, sometimes large adjustments," he said. "The process never ends. You never completely balance. It's the act of trying to balance that matters."
Petsko offered a unique perspective on liberal arts research institutions, having recently visited 12 different liberal arts schools as a Phi Beta Kappa visiting scholar. As a biochemistry researcher, he had visited many universities, but they were primarily large research institutions. He said had found the communities at the small, liberal arts schools to be all around happier places, and most of the schools he visited were "in awe" of what is being accomplished at Brandeis.
Lamb said part of the goal of a liberal arts education is to "make the strange familiar and the familiar strange." Brandeis has ways to achieve this not available at most universities, she said.
"Brandeis is in a unique position to carry this off, as a rare liberal arts college in a research setting that is grounded in a history and mission of social justice," Lamb said.
Chasalow underscored the place of the creative arts at a research institution and within the liberal arts.
"[The creative arts] represent different ways of thinking about the world, they represent fundament modes of expression and they represent not only a way of thinking differently about the world, but also ways of reimagining what is possible in the world," Chasalow said.
Miller emphasized the importance of a liberal arts education offering students opportunities for curious pursuits and discovery.
"Let's not describe students as consumers who are buying information data and skills for processing them, or universities as places delivering end user needs," she said. "Universities are not industries creating human capital."
At the end of the discussion, Provost and Maurice B. Hexter Professor of Social and Economic Policy Lisa Lynch, who will serve as interim president when Lawrence departs, presented him with a bound copy of three original compositions that were written by Brandeis faculty and performed for Lawrence by the Lydian String Quartet when he was inaugurated.
Lynch reflected on some of Lawrence's accomplishments during his presidency, including setting the university on a stable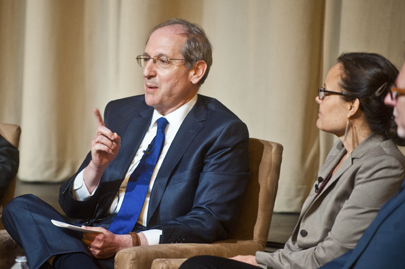 Brandeis President Frederick M. Lawrence
Photo/Ashley McCabe
economic course, preserving the arts and holding dialogues on discrimination and freedom of speech.
"As your friend, I just want to thank you for your dedication, your passion and your never ending support for all that is Brandeis," she said. "At your inauguration you talked about the fact that the threads of your life came together here at Brandeis. Those threads have formed a tapestry that are going to be with you wherever you go."
Lawrence said the university had come a long way during his time as president and it had a long way to go.
"We are all bound, I and my seven predecessors, to leave it better than we found it," he said. "I hope I have done that. I will watch with enormous pride to see where we all go from here."
Return to the BrandeisNOW homepage