Gordon Hall wins first sustainability competition
Competitions will spread to buildings around campus next semester
Gordon Hall residents recently won the first Brandeis building sustainability competition and celebrated by hoisting a unique, very Brandeisian trophy during a ceremony in Polaris Lounge Dec. 9.

Held over four weeks in October and November, the competition measured individual building electricity usage and quad-level recycling rates in the eight residence halls in Massell and North quads.
During the course of the electricity competition, residents of Gordon Hall, in North Quad, reduced their average weekly kilowatt-hour usage by 11 percent; Cable Hall, also in North, had the second highest reduction at 8 percent. Gordon Hall residents, in addition to be presented with a trophy, were also treated with doughnuts and cider from Wilson Farm in Lexington.
"A lot of people don't know the impact throwing things away can have, or even what can be recycled," said Ashley Piccirillo '17, a community advisor in Gordon Hall. "The competition really served as an opportunity to educate and get more people involved."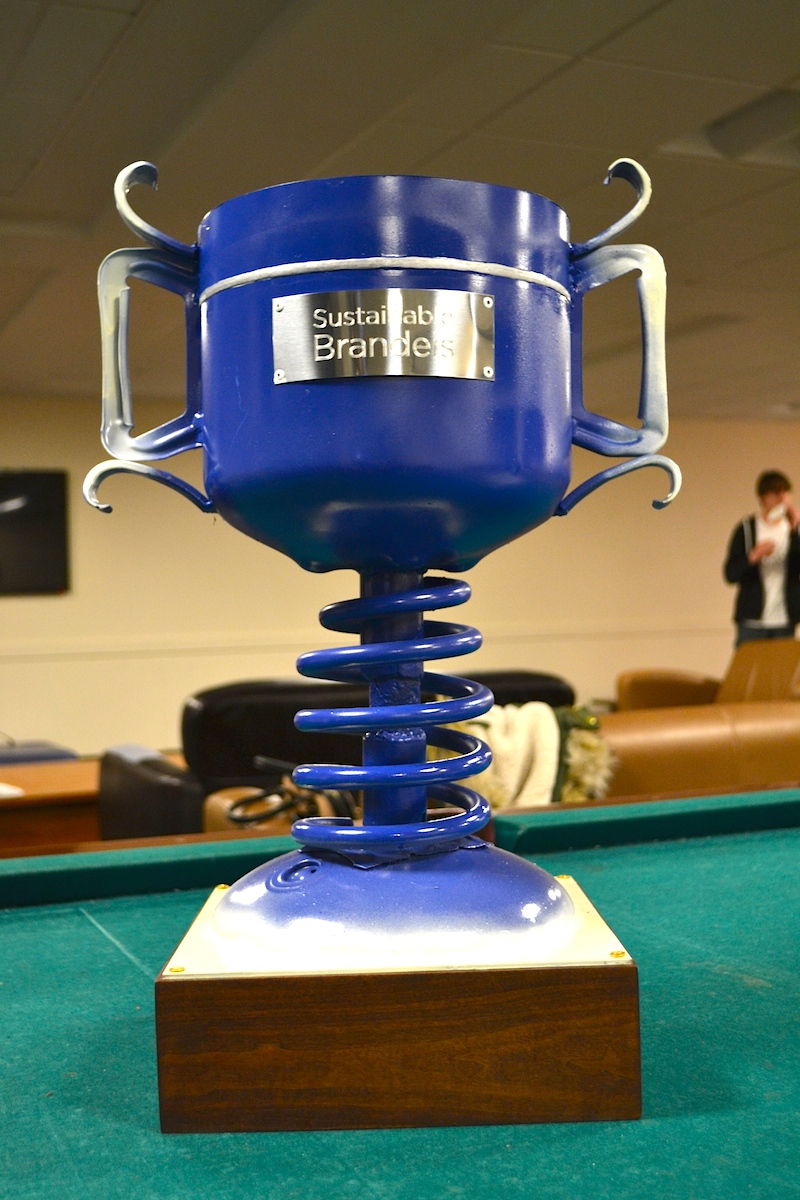 The trophy, created by Paul Belenky '14
The trophy was made by sculptor and artist Paul Belenky '14 out of entirely recycled materials. Belenky used pieces from a propane tank, an industrial spring and recovered wood to create the award, which is painted Brandeis blue. It will continue to be used to celebrate winners of future sustainability competitions.

"Working with the first-year quads is key because they are the student population who will be on campus the longest," said Mary Fischer, the university's manager for sustainability programs. "Ingraining sustainable behavior from year one is a key strategy for improving the sustainability profile of our campus."
The competitions will continue around campus and extend beyond resident halls to academic and administrative buildings starting next semester.
"We saw heightened awareness and fantastic results in our first competition," said Fischer. "Competitions like this offer a challenge to everyone in our campus community to be more conscientious of the energy they consume and the waste they create."
On the whole, North Quad reduced its electricity use by seven percent, while Massell Quad dropped two percent. Both quads more than doubled their recycling rates. North Quad went from 14 percent of its waste stream being recycled to a four-week average of 29 percent, while Massell went from 12 percent to 27 percent.
Improvements could also be seen over the course of the competition — Massell, for example, had lifted its recycling rate up to 38 percent in the final week of the competition.
Return to the BrandeisNOW homepage