Shantanu Jadhav named Sloan Research Fellow
Assistant professor of psychology and neuroscience
Shantanu Jadhav
has won a prestigious Sloan Research Fellowship to explore memory and decision-making in mammalian brains.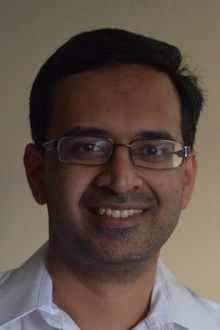 Shantanu Jadhav
The Alfred P. Sloan Foundation
fellowship honors early-career scientists and scholars who are among the next generation of scientific leaders. This year, 126 researchers from the U.S. and Canada were awarded the $50,000 grant.  
Jadhav, who recently came to Brandeis from the University of California, San Francisco, studies how the hippocampus and the prefrontal cortex — two critical brain regions — interact and communicate with each other to support learning, memory and memory-guided decision-making.  
Communication between the hippocampus and prefrontal cortex is critical for remembering, planning, predicting and decision-making, yet scientists don't yet understand how the two regions communicate.   
To explore this question, Jadhav studies rat brains in real time as they form memories, learn and make decisions. He observes how activity in neuronal groups in the hippocampus and prefrontal cortex evolves during learning and what mechanisms underlie the organization and transmission of information across these structures.  
Jadhav hopes his research will provide insight into memory and learning as well as neurological and neuropsychiatric disorders, including dementia, Alzheimer's, depression and schizophrenia.
Return to the BrandeisNOW homepage