Brandeis spirit band amps it up
Set to add a festive, energetic vibe atmosphere to campus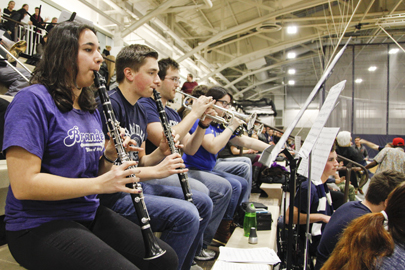 Photo/Mike Lovett
It was time to bring back the funk.
 
Brandeis unveiled the latest iteration of its spirit band at the women's and men's basketball games against the University of Chicago last month. Playing a mix of funk and contemporary tunes before the games, during timeouts and at halftime, the band brought a new vibe to the Red Auerbach Arena.
 
The band is the collective vision of its conductor, Alex Faye '15 and Senior Vice President of Students and Enrollment Andrew Flagel.
 
"Both Vice President Flagel and I were both really into the idea of having a band at Brandeis games," says Faye. "We both weren't sure why we didn't have one, so we decided on going for it and putting a band together."
 
Flagel concurs, "It is a very Brandeis distinction to have a spirit band to support our campus that comes from our incredible academic music tradition and driven by the passion and energy of our students, both those studying music and those with other majors who love performing."
 
To build on this tradition, Flagel, in collaboration with Professor Yu-Hui Chang of the music department, has hired Kenneth Field to be the band's director, beginning March 1.

Field, who is a world-renowned saxophonist, flautist and composer, a member of two acclaimed music ensembles, and has played in 12 countries, is excited to get started with the band.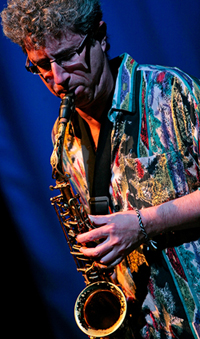 Kenneth Field. Photo/Amitava Sarkar
"The intent is to create a music ensemble at Brandeis that is a couple of things at once—a group that is musically interesting, fun and inspiring," says Field. "It's not going to be a typical pep band."
"We're not going to necessarily be playing rah-rah music," Field continued. "I plan on bringing in some of my own original music and lesser known material. This will be Brandeis-themed music. Much will depend on the interests of the students involved."
The spirit band currently is composed of 12 students, including Gabrielle Reardon, a graduate student who will help oversee the band's logistics. The band already plays a mix of instruments, including the trumpet, clarinet, saxophone, euphonium, trombone, tuba, sousaphone, drums, flute and guitar, and the group expects to grow in numbers in the future.
"I had been in an athletic band before, so I helped order the instruments and teach the group about playing in an athletic setting," says Reardon, who is studying musicology and plays the trumpet.
Meanwhile, Faye, who has played the trumpet since the third grade and is the current director for Top Score, another student-run band at Brandeis, says being part of the band provides an opportunity to play music and to connect with the athletes. He adds that it also has another benefit: "I think it will get people more excited about the sports here and really help them enjoy the game day atmosphere."
Return to the BrandeisNOW homepage