Brandeis celebrates Martin Luther King, Jr. and 'The King in Us All'
Roy DeBerry '70 was the featured speaker at the annual event
Roy DeBerry '70 was only a teenager when he was arrested during a march for voting rights in Jackson, Miss. in 1965 and spent the next two weeks in jail.

"We stayed in a facility reserved for hogs," DeBerry said. "It was horrible, but you know what? It was also invigorating. Because we believed in the constitution and the correctness of our cause."

When DeBerry, a freedom school student and native of Holly Springs, Miss., enrolled at Brandeis the next year, he brought his commitment to social justice with him. DeBerry was deeply involved in activism on campus during his undergraduate years at Brandeis, including the student occupation of Ford Hall in 1969.
He returned to campus Jan. 19, Martin Luther King, Jr. Day, as the guest speaker at the 10th annual Brandeis memorial for the civil rights icon, titled "The King in Us All."

"Brandeis is certainly a more inclusive place today," DeBerry said. "As I sit here tonight and see this audience and this great performance, it makes me so proud."

The memorial featured poetry readings by students and Dean of Students Jamele Adams, performances by the Boston Tap Company and student groups So Unique! and Kaos Kids, and readings of speeches by King performed in character by students D'Andre Young '15, Wilkins Lugo '17 and Cameron Mendes-Moreau '15. DeBerry was introduced by LaShawn Simmons '18. The event was co-hosted by Adams and Rabbi Elyse Winick.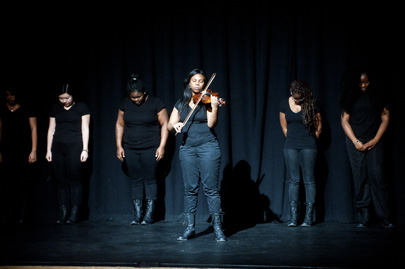 So Unique! performs during "The King in Us All."
Chad Williams, associate professor of African and Afro-American Studies and chairman of the Department of African and Afro-American Studies, reflected on how King may have viewed the fledgling Black Lives Matter movement.

"There are some people who would say that Martin Luther King, Jr.'s legacy doesn't matter as much as it used to, that in our current moment, that people who claim that black lives matter are doing a disservice to King's legacy," Williams said. "I believe if Martin Luther King, Jr. were alive today he would be on the front lines. He would be on the front lines with all of us who claim that black lives matter."

Adams said he hoped the evening of celebration and memorial would help bring the community together.

"We need to come together and this event will hopefully help us do that more than we have already," Adams said. "We need each other in order to do that."

DeBerry said King and other leaders of the civil rights movement believed change needed to come from the public, not politicians or corporations, something that, DeBerry added, seems to have been forgotten by many.

"Although recent events in Ferguson and New York have rekindled an old spirit of citizen involvement, although these recent events have been more reactive than proactive, he (King) would still be appalled at how we as Americans have allowed the oligarchy to take away our desire and ability to struggle," DeBerry said. "We have collectively abdicated our responsibility as citizens and given over those powers to elected officials, lobbyists and the very wealthy."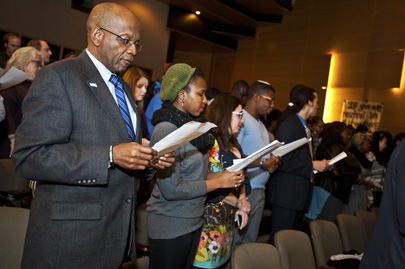 Roy DeBerry '70 and LaShawn Simmons '18.
DeBerry has served in high-ranking administrative positions in county and state government and academia, and is currently the executive director of the Hill Country Project, a non-profit organization that compiles stories of the residents of Benton County, Miss., who lived through the civil rights movement and provides local education support.

He told the standing-room only audience in the Shapiro Campus Center theater he believed reforming public education should be the next major civil rights challenge.

"(The education system) is leaving so many poor children unprepared for the world of work and productivity, but is custom-made to get them into the penitentiary," he said. "The need to change, fundamentally, the way public education is delivered to the poor in this country should be the next major civil and human rights issue."
Brandeis will continue to honor Martin Luther King, Jr.'s legacy this week, with a screening of the film "Selma" Jan. 21 and a panel discussion on race and civil rights on Jan. 22.
Return to the BrandeisNOW homepage