Former Miss World encourages sexual assault survivors to speak out
For Linor Abargil, her life's work—empowering sexual assault survivors—draws on a personal experience, one she calls the lowest point of her life.  
In October 1998, Abargil was abducted, stabbed and raped, two months before she would represent Israel in the Miss World competition, an event she would win. With her new celebrity status, Abargil set out to become a worldwide voice for sexual assault survivors.  
 On Tuesday, March 24, Abargil came Brandeis to share her story and to screen "Brave Miss World," the documentary that recounts her assault and chronicles her travels around the world to meet with rape survivors. Following the screening in the Wasserman Cinematheque, she took the stage and answered questions from the audience.  
Abargil says eradicating rape and sexual abuse is an uphill battle that requires systematic, societal changes throughout the world as well as many voices.  
"I can't do this alone," Abargil says of her mission, "I need your help. I need everybody's help. If we don't speak how will anybody know about it? We have to scream and say 'enough.' If you want to make a change, you need to go against the flow and not be afraid."  
Abargil adds that it's important for survivors to speak up because the effects of sexual assault are long lasting. She says that although she has achieved much in life that brings her happiness—she is married, has three children, and passed the Israeli bar—she still feels the emotional impact of the assault.  
"Bad things happen," says Abargil. "But I really believe that everything happens for the best. I believe we go through things that we can handle. It's a choice: either we go underneath the pillow and are miserable or we get up, put on a fake smile, wait until it sticks, and walk. But if you stay underneath the pillow and stay sorry for the life you have, nothing good will happen. I wasn't supposed to be here—I almost lost my life."  
Sheila McMahon, the sexual assault services and prevention specialist at Brandeis, as well as staff from the
Office of Prevention
and the
Rape Crisis Center
, felt compelled to attend the event, both as a show of support for Abargil's cause and to be a resource for rape survivors, their families and their friends.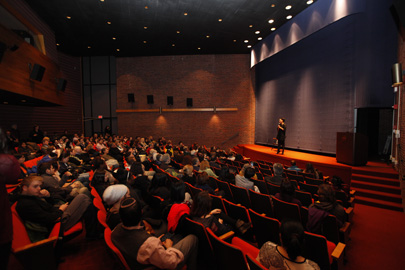 Abargil at the Wasserman Cinematheque. Photo/Mike Lovett
"Having Linor visit and show her documentary was incredibly powerful," says McMahon. "I thought it was uplifting and it supported survivors by giving them a voice. An important part of the film was its emphasis on how it takes courage to wake up and live each day as a survivor. When people have the courage to share their story, we want to encourage them and not allow shame or silence to make us unwillingly complicit with the perpetrators. We want people to feel safe, get the help they want or need and pursue the resources and reporting options available to them."  
Alice Kelikian
, director of the Film, Television and Interactive Media Program, arranged for Abargil to speak at Brandeis.  
"The prospect of having such an inspirational figure like Linor come to campus redoubled my efforts to bring her to Brandeis," says Kelikian. "The screening and question and answer forum brought to our community a very moving conversation about rape and sexual assault in the United States and the world. Our gratitude is great to Linor for traveling to Waltham from Tel Aviv to be with us for one night."  
The event was sponsored by the Film, Television and Interactive Media Program, the
Schusterman Center for Israel Studies
and the Office of Prevention Services.
Return to the BrandeisNOW homepage