Students dedicated break to volunteering
The Waltham Group organized volunteer trips to Pennsylvania and Maine over February break
While some fled to warmer climates or the comfort of home, groups of Brandeis students dedicated their February break to volunteerism.
Through The Waltham Group programs, 16 students went to a camp for children with life-threatening diseases and 10 went to Pennsylvania to work on a Habitat for Humanity project.
The Volunteer Vacation program organizes trips, facilitates reflection, researches community needs and provides transportation for students looking to volunteer during their time off from school. Krupa Patel and Tali Fleitman served as student coordinators for a trip to Camp Sunshine, a camp for children with life-threatening diseases in Casco, Maine. Patel has been coming to the camp since high school.
"The positivity and love that the families have for each other and for others is what draws me back to this magical place year after year," she said. "The work I am doing while at camp is enjoyable to the point where it doesn't feel like work and I am on vacation with the families."
It was Fleitman's second year participating in the volunteer program, last year she went to Montreal to address issues of poverty and homelessness.
"Each time I do community service I learn a lot about myself and have to opportunity to understand other people's needs," she said. "Many times while we live our day to day lives we forget to look at the little details of life that make us happy. I believe that volunteering during breaks allows me to appreciate the little details of life once again."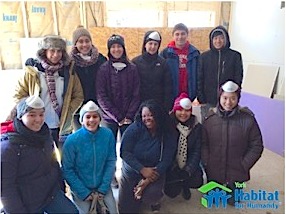 Student volunteers for Habitat for Humanity.
The students who went to York, Pennsylvania for Habitat for Humanity spent three days putting up drywall and insulation on a duplex home and one day at the Bell Family Shelter in York cleaning, clearing ice, and putting together new beds. 
"I love being able to get involved in a new community, exploring new places and interacting with new people," said Sofia Lavrentyeva, one of the student coordinators for the trip. "The group of volunteers is always enthusiastic and eager to help out."
Founded in 1966, The Waltham Group is a volunteer community service organization that coordinates participation in outreach programs for students at Brandeis. The group organizes programs in Waltham, greater Boston and beyond. Volunteer trips are also coordinated for April break and during the fall semester.
Return to the BrandeisNOW homepage