The right team to overturn wrongful convictions
Without the help of Brandeis's Schuster Institute for Investigative Journalism, Angel Echavarria, wrongfully convicted of murder, and George Perrot, wrongfully convicted of rape, would likely still be sitting in prison serving life sentences. Instead, they will spend this weekend in San Antonio, Texas, as guests of honor at this year's Innocence Network Conference.
Within the past 10 months, the Schuster Institute's Justice Brandeis Law Project achieved a remarkable feat: two overturned convictions and the liberty of both men. Echavarria was released in May and exonerated in June. Perrot was released in February and remains free, working at a job rehabbing houses while he awaits a possible appeal by Hampden County prosecutors.
By the time they walked free, Echavarria had spent 21 years behind bars, and Perrot 30 years, for crimes they always maintained they did not commit.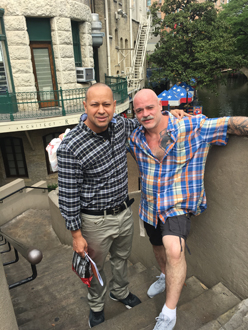 Photo/Sherrie Frisone
Wrongful convictions such as these are just one of several social-justice focus areas of the Schuster Institute's "impact journalism" model. Founding director and investigative journalist Florence Graves describes it as "a strategy of in-depth reporting that can help spark change in institutions and in the lives of those affected by them."
The Institute's investigations into human trafficking, and civil and human rights violations are aimed not only at the concerned public, but also government policymakers, corporate executives, regulators and other major influencers.
Graves says she is optimistic that shining a light on cases like Echavarria's and Perrot's will help policymakers and the public better understand and pay greater attention to problems in other cases in the criminal justice system. Countless others still languish in prison unjustly — some convicted due to faulty eyewitness evidence or a poor defense, as in Echavarria's case, or flawed forensics, as in Perrot's. That troubling reality is what motivates Graves and her team of students and staff.  
"We have the ability to use our research methods on cases — cases often brought to us by inmates because they see us as their last resort," says Graves. "Systems are overburdened, public defenders and other lawyers are overworked and can't do the kind of deep investigation that is required to make progress on a wrongful conviction that has stood for 20 or 30 years."
The Schuster Institute's deep investigation and findings led the Massachusetts Committee for Public Counsel Services (CPCS) Innocence Program to assign an appeals attorney to represent Echavarria and ultimately help him win his freedom in court.
After writing to several other organizations and receiving his first "yes" from the Schuster Institute in 2011, Perrot was later represented by a team of pro bono lawyers from Ropes & Gray, CPCS and the Innocence Project in New York.
On Monday read about the student researchers behind the Schuster Institute's success. 
Return to the BrandeisNOW homepage