Amanda Zehner, MA'11, is weaving business with social responsibility
Zehner is the founder of Living Threads Co., which seeks to stabilize business for back strap loom weavers in Central America
After completing the Sustainable and International Development Program at the Heller School for Social Policy and Management at Brandeis, Amanda Zehner, MA'11, worked in international development throughout Central America. She became familiar with the dynamics of production and organizational structures for artisanal textile weavers in the region. She also saw how unstable and uncertain work for them could be.
"This is a livelihood for many people in Latin America, and their traditional art is dying as their markets are flooded with cheap clothing," Zehner said. "The local community is not their market anymore."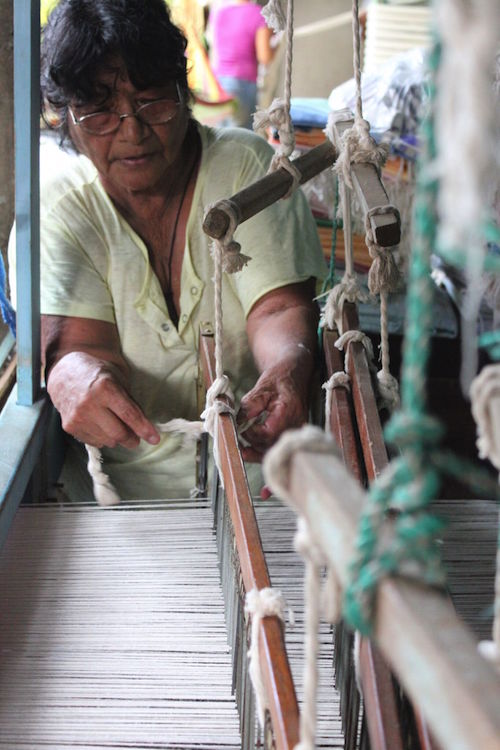 Weaving on back strap looms — stabilized on one end by a strap that wraps around the back of the weaver — has been part of the culture in the region for thousands of years, but as mass produced clothes have made their way to Latin America, locally woven goods have been phased out. As a result, the people that make them have become dependent on tourism for business, but the tourism industry is seasonal and not consistent.
Since 2014, Zehner has sought to help stabilize business for weavers in Nicaragua and Guatemala. She established Living Threads Co., a social enterprise that connects goods woven in these countries with US market. 
Based in Reston, Virginia, Zehner travels to Nicaragua several times per year, where she works with weaving groups to design products inspired by their culture, and then place orders with the weavers to produce goods like table linens, scarves and pillows. These products are sold in Living Threads Co. pop-up shop locations, currently in Reston, Virginia and online.
"Throughout the year, we are able to do small orders from all our groups to ensure all weavers are employed throughout the year, providing year round income and helping to preserve this traditional art. " Zehner said.
Along with placing orders with weavers, Living Threads also offers its partners micro credit loans and training, which help them build their small business as well as better understand the global marketplace they are now a part of. Through partnerships with local non-profits and on the ground training, Living Threads Co. also connects artisans to local markets, such as eco-resorts. In addition to partnerships in Guatemala and Nicaragua, the company has expanded to include weavers in India and Nepal. 
Zehner will be part of a Brandeis alumni career panel in Washington, DC, to be held on Jan. 12. More information about the event can be found here.
Return to the BrandeisNOW homepage