Bruce Magid to step down as dean of Brandeis International Business School
Bruce Magid, dean of Brandeis University's International Business School (IBS) since 2007, will step down in August to accept a position with a British-based company that specializes in developing international public-private educational partnerships.
Magid will join INTO University Partnerships in the newly created role of executive vice president of partnership development, North America. The company partners with leading universities around the world to meet the increasing global demand for higher education.
In Magid's nine years as dean, Brandeis IBS achieved continued growth, visibility and prominence as a leading globally focused business school.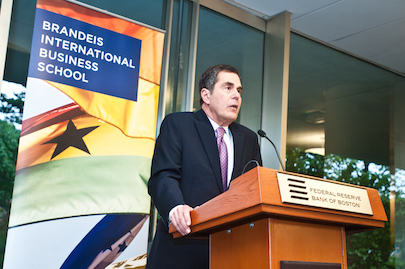 Bruce Magid
"The Brandeis community owes Bruce a huge amount of gratitude for building a smart business program for the 21st century," said Brandeis President Ron Liebowitz. "In our increasingly global society, Bruce has brought students the knowledge and skills they want and need to thrive in an international, innovative and entrepreneurial world."
During Magid's tenure, the school received AACSB International accreditation, enhanced its master's programs, and created and rolled out a robust, popular undergraduate business major. Under his leadership, the school also launched the Perlmutter Institute for Global Business Leadership, the Hassenfeld Family Innovation Center and new immersion programs that introduce students to economies in transition. 
"The growth and success of the graduate and undergraduate programs at IBS are a testament to Bruce's keen understanding of the world and the needs of our students," said Provost Lisa Lynch. "He has continued to attract world-class faculty who are extraordinarily dedicated to the mission of the school and provide such unique opportunities to our students."
"I am proud of Brandeis IBS' strong academic reputation in business, finance and economic policy, as well as its multicultural student-centered environment," said Magid. "I have had a wonderful opportunity to work alongside our talented team of faculty and administrators to help shape future generations of global citizens, and I look forward to continuing to support the mission of this unique and very special business school."
An interim dean of IBS will be named later this summer.
Return to the BrandeisNOW homepage