Nine alumni admitted to Supreme Court bar
Ceremony occurs the same week as centennial of Brandeis joining the court
Less than a week after centennial of Louis D. Brandeis' ascension to the Supreme Court of the United States, nine Brandeis University alumni were admitted to the court's bar in a formal group ceremony.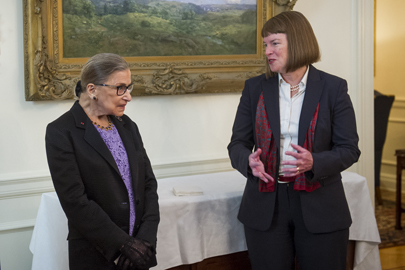 Associate  Justice Ruth Bader Ginsburg with Interim President Lisa Lynch
In recognition of its namesake's pivotal role as an associate justice from 1916 to 1939, Brandeis is the only institution that conducts a group swearing-in for its undergraduate alumni, a ritual practiced by a number of law schools. The June 6 ceremony at the Supreme Court in Washington was the university's fifth such event.  

Attorney Linda Heller Kamm '61, a member of the Supreme Court bar, formally moved the group for admission to the bar. Kamm is a trailblazing public interest attorney who in 1977 was the first woman confirmed by the Senate to serve as general counsel to a U.S. cabinet department.
Interim President Lisa Lynch attended the swearing-in ceremony along with family and friends of the alumni.

Justice Ruth Bader Ginsburg, H'96, whose Jan. 28 address to the campus launched the semester-long celebration of the centennial of Brandeis' nomination, greeted the alumni after the formal ceremony. She answered questions from the group in an impromptu session facilitated by Kamm.

Following the ceremony, the alumni enjoyed a lunch at Monocle Restaurant on Capitol Hill.
To be eligible for admission to the Supreme Court bar, lawyers must be admitted to practice in the highest court of a U.S. state, commonwealth, territory or possession, or the District of Columbia for a period of at least three years immediately before the date of application.

For more information about participating in next year's swearing-in, contact Karen Rogol '98, director of alumni and university relations.
Return to the BrandeisNOW homepage