Kerry Washington and Anita Hill talk 'Confirmation' at Brandeis
The "Scandal" star visited campus March 6 to talk about her upcoming HBO film in which she portrays Hill
Actor Kerry Washington visited the Brandeis campus Sunday to sit down for a talk with University Professor Anita Hill, whom she portrays in the upcoming HBO film "Confirmation."

In front of a capacity crowd in Wasserman Cinematheque, the pair talked about the upcoming film, which tells the story of the 1991 Supreme Court nomination hearings for Clarence Thomas. Before a riveted nation, Hill testified that Thomas had sexually harassed her while she worked for him at the Department of Education and later at the Equal Employment Opportunity Commission. The conversation at Brandeis touched on the hearings and issues of race, gender and sexual harassment 25 years later.

"We weren't saying the words 'sexual harassment' before this brave woman came forward," Washington said. "To look at who the woman is behind this legacy, that for me is one of the things that was so interesting about the opportunity to play Anita Hill. So often we put people on a pedestal and we don't consider our cultural icons to be human. I wanted to access and portray the human being Anita Hill, not just the legacy."

Hill admitted that getting to know her personally was probably a challenge for Washington, as she is very protective of her private life and is not always the easiest person to get to know. But it is an honor to be portrayed by someone as committed to the role and her story as Washington, Hill said. Washington is also an executive producer for the film.

"Not only is she a wonderful actress, but I think she is just the perfect person to play this role," Hill said.

The event was organized by Alice Kelikian, associate professor of history and chair of the Program in Film, Television and Interactive Media. The idea for Sunday's conversation was hatched at an alumni event in Los Angeles last year when Kelikian asked actor Tony Goldwyn '82, who co-stars with Washington in the TV series "Scandal," about the possibility of bringing Washington to campus and he encouraged her to pursue it.

"We have him to thank for this event," Kelikian said.
The pair talked for about an hour and took questions from the audience. Hill offered observations of how female characters are often presented in  film and television today.
"Sexual harassment happens all the time in television and it's a laugh line — even rape happens and there are jokes," Hill said. "How are you supposed to then go into the workplace and understand that (sexual harassment) is wrong and illegal when it's been portrayed to you as funny, or that it doesn't even matter?"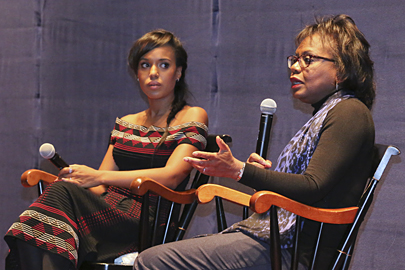 Kerry Washington and Anita Hill
Washington said she has a sense of duty to seek out roles that depict three-dimensional characters.

"I am aware that by choosing the roles that I choose, the very act of being a fully committed artist is an activist act," Washington said.

"Confirmation" will be released on HBO April 16.
Return to the BrandeisNOW homepage