Deborah Lipstadt, MA'72, PhD'76, honored with Alumni Achievement Award
The Holocaust historian received the award prior to a screening of the film "Denial."
Deborah Lipstadt, MA'72, PhD'76, was presented the Brandeis Alumni Achievement Award in a ceremony followed by a screening of a film based on her legal battle against Holocaust denier David Irving Thursday. After the screening, Lipstadt engaged in a conversation with Oscar-winning filmmaker Errol Morris, H'11, in front of a packed house at Wasserman Cinematheque.
Brandeis University President Ron Liebowitz presented Lipstadt with the award, which is the highest form of university recognition bestowed exclusively on alumni.
"We are gathered here this evening to watch an important movie together and to hear from the real heroine of the film, alumna Deborah Lipstadt, whose career has been dedicated to pursuing the truth, even unto it's innermost parts," Liebowitz said. "Deborah, you have brought great honor to us here at Brandeis."
Lipstadt is one of the world's foremost authorities on the Holocaust and the study of Holocaust deniers. She has been a professor of modern Jewish history and Holocaust studies at Emory University for over 20 years, and her books include: "Beyond Belief: The American Press and the Coming of the Holocaust," "Denying the Holocaust: The Growing Assault on Truth and Memory," "History on Trial: My Day in Court with a Holocaust Denier" and "The Eichmann Trial."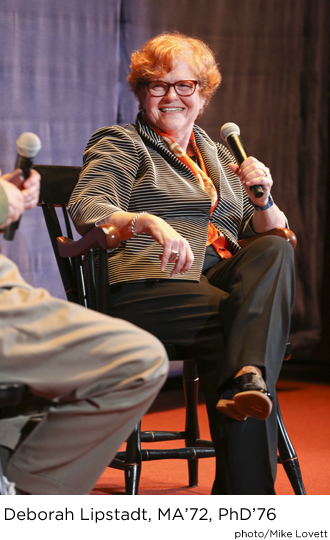 She was thrown into the international spotlight when Irving, a purported historian and Holocaust denier, filed a defamation case against her 1996. Instead of settling the case, she elected to take him on before a British judge. "Denial" tells the story of the trial. Academy Award-winning actress Rachel Weisz plays Lipstadt in the film.
In the discussion between Lipstadt and Morris that followed the screening, Lipstadt said that in order to expose those who deny history you have to go beyond name calling, even if the names are true.
"You've got to do the hard work, you can't just say, 'You are a bigot,'" she said. "You've got to show, you've got to challenge. I think in our country and lots of other countries there's a great failure of that."
Morris - who interviewed David Irving while making his 1999 film "Mr. Death," which focuses on another Holocaust denier, Fred Leuchter - remarked on the importance of Lipstadt's mission of defending truth against the denial of history.
"There's this terrible post modern notion, which I revile, that there is no such thing as truth, that everything is up for grabs ... I respectfully, or disrespectfully disagree. There is such a thing as truth, there's such a thing as historical reality, a world in which things have happened or not happened," Morris said. "Digging our way back to historical reality is a deeply noble and important enterprise."
The screening and discussion were a collaboration of the Brandeis University Alumni Association and the Film, Television and Interactive Media Program. "Denial" premieres Sept. 30.
Return to the BrandeisNOW homepage