Reel to real
Film historian Tom Doherty plays more than a cameo role in the lives of his students
Film historian Tom Doherty plays more than a cameo role in the lives of his students.
Over more than two decades, and with the deftness of a veteran film director, the American studies professor has nurtured the professional aspirations of many undergrads seeking careers in the entertainment world.
Academy Award winner? Check. Talent scout? Check. Hollywood reporter? Check. The list of students who credit Doherty with transformative mentorship includes writers, producers, directors, entertainment journalists, graphic novelists and a film studies professor.
It starts in the classroom. Students flock to his lectures and seminars on the history of film and its role in American culture because discussions are challenging, riveting and relevant. Doherty has an eye for helping his students develop their particular talents into achievable professional aspirations.
A cultural historian with a special interest in classic Hollywood cinema, Doherty's scholarly interests range from "Breaking Bad" and the rise of literary cable TV to Nazi films and artist Thomas Hart Benton. He has written five books on film and its cultural history, and serves as an editor for Cineaste magazine and the Journal of American History. He is also well connected to the contemporary Hollywood scene and emerging trends in the film world.
Like so many cinematic passions, Doherty's love affair with film began when he was a teenager. As an Air Force brat, the Massachusetts native moved a lot. When he was in junior high school, his family was stationed at Eielson Air Force Base south of Fairbanks, Alaska — a remote outpost where the local cinema provided the only entertainment.
"It was sort of like a classic Hollywood environment that no one else had," he says. "It was like growing up on cinema in the 1930s and '40s. The movies changed every two days and going there was all there was to do. I saw movies as great art, and even if I couldn't articulate why they moved me, they were still mind-blowing."
Doherty's boyhood passion still inspires him. So it's no surprise that he is able to catalyze the imaginations and aspirations of his students.
"The best thing you can do as a teacher is to try to invigorate that special inspiration each of our students has," he says.
If the career paths of former students is any indication, Doherty has helped build an A-list of entertainment professionals.
The Oscar Winner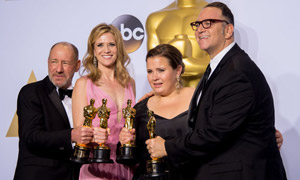 Michael Sugar (right) along with the producers of "Spotlight," show off their new Oscars for Best Picture at the 2016 Academy Awards. Credit: Phil McCarten / A.M.P.A.S.
Some time ago, L.A. producer Michael Sugar '95 dreamed he was at Dolby Theatre during the Academy Awards, listening to actor Morgan Freeman announce the nominees for Best Picture.
"Spotlight," a true story about a team of Boston Globe investigative reporters who uncover the Catholic Church sex abuse scandal, was up for consideration, Freeman told the audience in Sugar's dream.
Fast forward to last February, on the actual evening of the 88th annual Academy Awards. Sugar, one of "Spotlight's" producers, sat on the edge of his seat in the glitzy Dolby Theatre. After a long pause, the real Morgan Freeman announced in his trademark voice of authority that "Spotlight" had won Best Picture. (It also won Best Original Screenplay.)
That moment was a dream come true for Sugar, whose lifelong ambition to become a Hollywood producer was fostered in Doherty's classes.
"I grew up in L.A. surrounded by the film and movie business, so I thought I'd have a leg up," says Sugar, whose father was a producer. "The truth is, I knew nothing about film. Tom Doherty was hugely influential. I'd compare where I was before I met him to someone who thought they had what it takes to become a doctor because they knew how to play the children's game, 'Operation.'"
In class, Doherty focused on storytelling, igniting a new passion for learning in Sugar. "Professor Doherty made me want to tell iconic stories," Sugar says. "He raised the bar for me as a student and a storyteller."
Doherty championed Sugar's career long before the Oscars. "Spotlight" premiered at Coolidge Corner Theatre in Boston, and Doherty was there to congratulate his former student.
"Professor Doherty was the first person I wanted to be there at the premiere," says Sugar. "It was the proudest moment of my career because I got to share that moment with him."
The Hollywood Renaissance Woman
Tracey Wise '93, took an elective class with Doherty to satisfy a history requirement in a fun and enriching way. As an English major, she expected to become a high school English teacher, not a talent manager, script analyst, television and film executive or entertainment event producer in California.
Doherty played a leading role in setting Wise on her career path. He urged her — sensing she had a gift for writing about film — to apply to top graduate schools in film, rather than pursue a master's degree in English.
"When I told him I wanted to go to grad school for English, he basically told me I would be crazy not to apply to film schools," Wise recalls. "He said, 'you're good at film — you have an eye for it and you should pursue it.'"
In a telling turn of events — like something out of a movie, maybe — Wise got into every film school she applied to and got rejected from the only English master's program.
"I call that ironic," she says. "But it was also the world telling me something."
Wise earned a master's in film and television critical studies at UCLA's School of Theatre, Film and Television and simultaneously scored a paid internship with the Academy of Motion Picture Arts and Sciences, as well as a mentorship with actor/director Debbie Allen. Next, she landed a job as a talent manager trainee, where she worked with iconic actors and personalities like Jimmy Fallon, "Orange is the New Black's" Lorraine Toussaint and "The Sopranos'" James Gandolfini.
Through it all, Wise kept up with Doherty, who consistently expressed support and pride in her accomplishments. "One of the best things he ever taught me was script coverage." Script coverage is the process by which scripts are summarized and evaluated once they come into a studio, agency or production company.
"The fact that we were trained in it at Brandeis was huge," Wise says. "Tom was such a visionary, so ahead of the curve. He had the prescience to go to alums working in the industry and ask for current and upcoming scripts so he could teach us how to write coverage — and why it was such an important skill for anyone trying to break into Hollywood. It was an invaluable tool that helped me get jobs at the studio level."
Following stints at 20th Century Fox Television, Fox Family Films and Walt Disney Studios, Wise segued into event programming with The Learning Annex and was also the director of career development for the Los Angeles Film and Recording School.
Throughout her journey, she has remembered and treasured Doherty's teaching and support.
"I never would have had the guts to move across the country by myself, which is essentially what I did when I was 21,"she added. "Not without Tom. He was a massively huge influence and a true mentor in every sense of the word."
The Hollywood Reporter
Scott Feinberg '08 was well versed in the history of American cinema and film analysis even before he arrived at Brandeis as a first-year in 2004. In fact, Feinberg, the awards columnist for The Hollywood Reporter and a former entertainment writer for the Los Angeles Times, made live Oscar predictions for the ABC News affiliate near his hometown of Woodbridge, Connecticut while he was still in high school.
He had also started to write a book about the production of classic American movies like "Casablanca," "Gone With The Wind" and "The Godfather" by tracking down and interviewing the cast and crew members on such films. And he launched one of the first-ever Oscars blogs (AndTheWinnerIs.blog.com) before he moved into his first residence hall.
In fact, Doherty urged Feinberg to choose Brandeis to begin with.
"On Accepted Students Day I decided to check out a film class I noticed on the schedule, which was being taught by a Professor Doherty," Feinberg recalls. "I remember sitting in the back of the class listening to a terrific lecture that turned into a conversation about critic Camille Paglia's interpretation of the Hitchcock movie 'The Birds.' Professor Doherty led this amazing discussion and I left the class sold on Brandeis."
Feinberg's blog — which he continued at Brandeis and which enabled him to interview people like Aaron Eckhart, Jeff Daniels and Rachel Weisz from the comfort of his dorm room — also paved the way for him to work as a professional journalist covering Hollywood and American cinema. Doherty helped him refine his analytical skills, and encouraged his career path.
"Professor Doherty gave us the model of how to take film study seriously," says Feinberg, who took all of Doherty's courses. "Our class was not a time to sit back and relax. There is this idea in Professor Doherty's classes that there's so much that lives beneath the surface of movies if you're willing to look for it."
Return to the BrandeisNOW homepage