Memorializing the passengers of the MS St. Louis — with a Twitter feed
Rabbi Charlie Schwartz took to social media to remember Holocaust victims turned away at the U.S. border
On Jan. 27, International Holocaust Remembrance Day, the twitter account @StL_Manifest sent its first message at 2:15 a.m.
My name is Herbert Ascher. The US turned me away at the border in 1939. I was murdered at Auschwitz

— St. Louis Manifest (@Stl_Manifest) January 27, 2017
Ascher was one of the passengers aboard the MS St. Louis, an ocean liner that carried over 900 Jews seeking asylum from Nazi Germany in 1939. Nearly all the passengers were refused entry to Cuba, the United States and Canada. They were not forced to return to Germany, as several European countries agreed to take them, but hundreds of them still eventually died at the hands of the Nazis in the Holocaust.
Every five minutes the account tweeted a similar message, changing only the person's name and their final location, until it had listed off every known passenger of the MS St. Louis who later was killed in the Holocaust.
By the end of the day, the account had tens of thousands of followers. By the end of the weekend, it had received international media attention and had over 70,000 followers. 
The account was created by Rabbi Charlie Schwartz, interim Jewish chaplain and director of BIMA and Genesis, two summer precollege programs at Brandeis, and Russel Neiss, lead faculty for the Genesis technology innovation studio.
Schwartz took some time to talk with BrandeisNow about the project: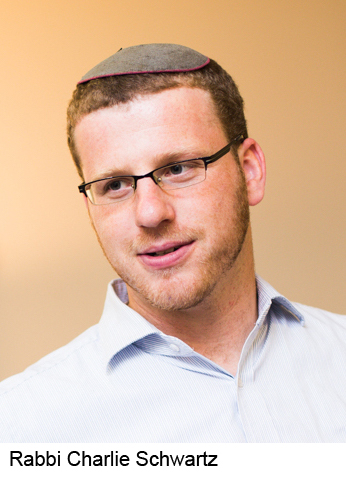 How did you come up with this idea?
It came out of a desire Russel and I had to honor International Holocaust Memorial Day. With the national conversation focusing around refugees and immigrants, I started thinking about the MS St. Louis and its passengers. Those stories seemed so relevant to today. I knew there had to be a passenger manifest, and with a little time on the internet I discovered that researchers from the United States Holocaust Memorial Museum had spent two years researching the passengers on the ship and compiled a list of those who were refused entry to the United States, their last known whereabouts and a photo, if they were able to find one.
How did you decide to use twitter as a platform?
This is deeply rooted in Russel's work with the Genesis technology innovation studio course in the summer. This is an example of the work we do in that course, thinking about ritual and Jewish life and how technology can enhance the meaning we make in the world through the lens of our tradition. In fact – one of the first assignments in the class is to create a twitterbot. Without that course this wouldn't have happened.  
After the initial idea, things came together quickly. Russel and I have been working together for seven years and we do a lot of tinkering with how software can be used as tool to more deeply reflect or find meaning in life. I sent him a text at 6 o' clock (p.m., on Thursday, Jan. 26) asking if we could do something with this information from the US Holocaust Memorial Museum. Russel wrote a script that scraped the information on MS St. Louis passengers from the museum's website and generated a tweet out of it. We set it so every five minutes it would send another message until there were no more names left. We spent about an hour on it that evening and it started sending tweets the next morning.
What role did the current political climate play in creating this?
In a different political climate I don't think we would have been motivated to do this project. Of course, I don't think there is a direct one to one comparison to the Nazi genocide and the current political situation here in the US or abroad. But at the same time, the lessons from the St. Louis feel timely and necessary. It's a compelling story. It speaks strongly to the situation we find ourselves in now. I had been feeling very concerned and dejected around the rhetoric around refugees and immigrants – people in whom I see my family's story. Russel and I felt an obligation to do something. We saw an opportunity to add something to the conversation, to do something and we went with it. It is small, but hopefully it's one of many actions people will take to honor our values as Jews and as Americans, to honor our obligation to protect the most vulnerable members of our society.
Were you surprised by how much attention it received? 
We've been very surprised by the attention we're receiving around the world. It moved from Twitter to articles in digital media, and we've seen stories written about it in Spain and Australia. Even more so, we've been surprised about how the feed moved from the digital sphere to the action in the real world. We're constantly getting tweets and emails about people who are using the feed for signs at rallies, as templates for letters to congress and as motivation to do something. To be honest, the attention this account has received has shown us a depth of compassion from people around the world that affirms our sense of the goodness of humanity.
Given how successful this was, what are you going to do now?
I think the feed itself serves as a provocation for deeper conversation. People are adding a lot of context to it with the way they write about it and the way they retweet it. Russel and I both feel lucky to have seen an opportunity to make a difference, however small, and to have taken it.  
Return to the BrandeisNOW homepage