Studio arts professor Joe Wardwell leaves a big print in MASS MoCA's new wing
Wardwell created a massive wall mural for the museum. It's unlike anything he's done before.
Joe Wardwell's installation "Hello America: 40 Hits from the 50 States" at the Massachusetts Museum of Contemporary Art is hard to miss.
Covering an entire gallery wall in B6: The Robert W. Wilson Building, the much-celebrated new wing of the museum in North Adams, the mural is 146 feet long and 14 feet high. It's unlike anything Wardwell, associate professor of painting and current director of the studio art program, has done before.
"There's not many places that could take a mural that big," he said. "It's something I'd never faced before as an artist. It's huge."
From a distance, the mural brightly stands out. Up close, it engages viewers with ominous bits of American culture. The acrylic mural features large, bright block text as well as much smaller, subtler screen-printed text quotations, all laid over a painted dusky wooded landscape. The quotations come from a wide variety of sources, from punk rockers to presidential slogans to poets to progressive thinkers.
Wardwell found inspiration for his piece from equally far reaching places, like the post-apocalyptic science fiction novel "Hello America" by author J.G. Ballard - which features a mad man who calls himself President Charles Manson and declares "together, Wayne, we will make America great again!" - and a song by underground experimental rock band Negativland that features an expletive-laden rant by the late disk jockey Casey Kasem.
He was commissioned to create the installation at MassMoCA by the museum's curator Denise Markonish '97. Although Markonish is a Brandeis alumna, the connection with Wardwell is happenstance; they met while she curated at the Fuller Museum and she later included his work in a 2005 exhibition at ArtSpace in New Haven, Connecticut. She was also familiar with a mural Wardwell had created in 2013 for rag & bone, a clothing company in New York, that was similar to - though considerably smaller than - the piece he ultimately created for MASS MoCA.
"I've been following Joe's work for years and admire his recent focus on the landscape and politics - especially at a time when artists need to think about the world around them," Markonish said. "When I invited him to make a new work at MASS MoCA, I just knew he could handle it, even if he had never made a painting at the scale. Watching the process and then seeing our visitors respond so positively to his work has been amazing and just cements the fact that Joe is one of the great artists working in the greater Boston-area."
Creating the mural was a new kind of challenge for Wardwell, mainly because of the enormous size of the wall and the inflexibility of the space, he said. It was a yearlong process that started with taking photographs of the gallery and the enormous blank wall, and ended with a 22-day-long installation by a four-person team.
The enormous new wing spans more than 100,000 square feet and nearly doubles the size of the museum, making it the largest contemporary art museum in the country. Exhibitions from artists like Laurie Anderson, Jenny Holzer and James Turrell are among the inaugural exhibitions in the space. Wardwell's wall mural will remain on display for at least two years.
"It's an incredible honor to be included in such great company, but it's also a challenge to create a piece that sort of stands up with your heroes," Wardwell said. "It's a humbling experience to have people you look up to look back at you."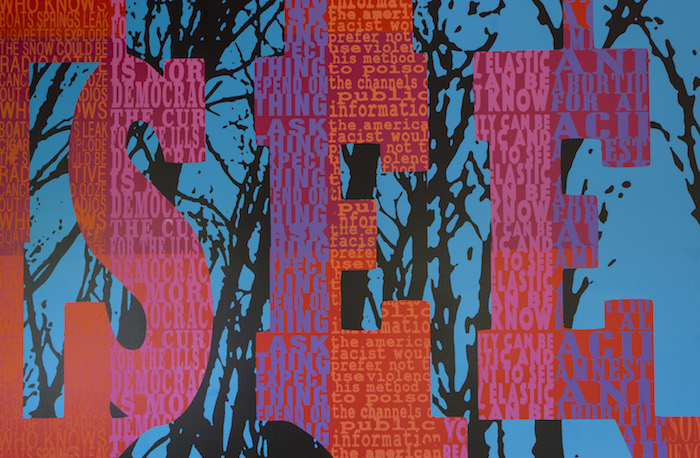 An upclose look at "Hello America: 40 Hits from the 50 States" Photo/David Dashiell
Return to the BrandeisNOW homepage