Generations of students collaborate in Nobel winning lab
What's it like doing research as a student in the neuroscience lab of a Nobel Prize winner?
Today, several Brandeis undergraduate and graduate students summed up the experience: thrilling.
At a joyful celebration among science faculty and students Monday in the Shapiro Science Center, it was still sinking in that Michael Rosbash, the Peter Gruber Endowed Chair in Neuroscience and professor of biology, along with Jeffrey C. Hall, professor emeritus of biology, were awarded the 2017 Nobel Prize in Physiology or Medicine.
Surrounded by colleagues and students from first-years to postdocs, Rosbash was celebrated for his and Hall's discovery of the molecular mechanisms controlling circadian rhythms, the inner biological clock that regulates nearly all life.
But as Rosbash noted a few hours after the announcement by the Nobel committee, the two Brandeis scientists couldn't have made their breakthroughs without the help and creativity of smart, hardworking students. Over decades of pioneering research, Rosbash has mentored generations of Brandeis undergraduate and graduate students. Albert Yu, PhD'22, who joined his lab about four months ago, followed in the footsteps of his own father, Qiang Yu, MA'89, who worked in the Rosbash lab in the 1980s.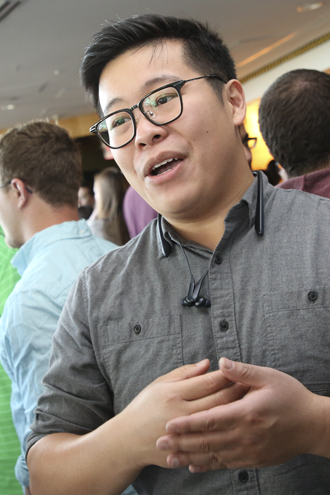 Albert Yu, PhD '22
Like his father before him, Albert Yu chose Brandeis because of the university's bred-in-the-bone quality of deep scientific collaboration that can move a field forward. Undergraduates working in the Rosbash lab echoed that conviction.
"It's an incredibly collaborative learning environment; you can run ideas by Professor Rosbash," said Joshua Lepson '19, a biology major who plans on pursuing medicine and research. "This is the lab we work in."
If conducting research alongside a Nobel Prize winner is a heady thought, it's a little daunting, too, at least right now. "Dr. Rosbash has incredibly high standards, and we're going to work toward even greater heights now," said Viraj Moholkar '19, a biology major with his sights on a career in pediatric medicine.
Rosbash is known for being "fearless in sharing his point of view," said Yu. But a spirit of collaboration and congeniality always prevails. "He really stands up for his people," Yu said.
Farzana Parveen '19, a double major in biology and Health: Science, Society and Policy, said a sense of curiosity pervades the Rosbash lab, while biology student Jason Xin '18, noted the lab's creative, intellectual climate.
Rosbash is "fantastic at fostering talent," said Yu.
Which bodes well for these exhilarated students.
Return to the BrandeisNOW homepage