A homecoming and major honor for biophysicist Dorothee Kern
The Professor of Biochemistry returned to the city of Halle, Germany to be inducted into Germany's National Academy of Sciences.
While she was growing up in what was then Communist East Germany, Professor of Biochemistry Dorothee Kern played basketball for the national team in a 16th-century castle.

This May, Kern stood in the same spot, though the court had been turned into an elegant restaurant, and she wore a flowing white dress instead of sweaty shorts. She'd come to be inducted into one of the world's most prestigious academic societies, The Leopoldina, Germany's National Academy of Sciences.
"My mom said she went around and everyone congratulated her," Kern said. "She told me, you made us famous!"
Kern, who researches cellular protein structures and dynamics, joins an elite group that includes Albert Einstein, Charles Darwin, Max Planck and Ernst Rutherford and a total of 178 Nobel Prize winners.

The ceremony took place about 100 miles south of Berlin in the city of Halle, where The Leopoldina is headquartered and where Kern grew up and attended college and graduate school. Her parents and many childhood friends still live there.

"What was so special for me is that this was my hometown," Kern said. "I got my entire education there."

The local newspaper profiled Kern, who has dual citizenship in Germany and the United States.

"My mom said everyone congratulated her in the streets of Halle," Kern said. "She told me, you made us famous!"

Kern, who is also a prestigious Howard Hughes Medical Institute Investigator, started shooting hoops at age 7 and played on East Germany's national team as a point guard. When East and Western Germany were reunited, she played on the country's new united team as well.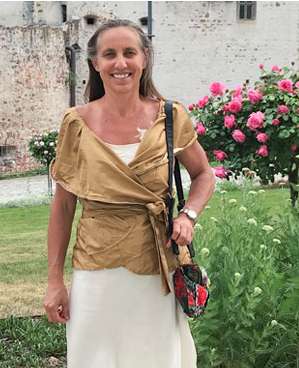 She loved the game, but it was also the only way she could get an education. Her parents opposed the government. Supporting the regime rather than merit got you access to an elite education. An exception was made for Kern because of her athletic prowess.

Basketball had another advantage. Unlike other sports, the government didn't make its star players take performance-enhancing steroids.

The Leopoldina was founded in 1652 and says on its website it's the oldest, continuously existing academy of medicine and natural sciences in the world.

During Kern's childhood, the organization belonged to East Germany, but, surprisingly, the government allowed it to remain independent. Every year, newly admitted members from around the world delivered talks. It was the only time Kern had access to researchers from outside East Germany.

While studying at the Martin Luther University of Halle-Wittenberg, Kern attended a lecture at The Leopoldina given by the Swiss biophysicist Kurt Wüthrich. He spoke about his research using nuclear magnetic resonance (NMR) spectroscopy to model proteins, work for which he was later to win the Nobel Prize.
In what Kern says was a side note, Wüthrich spoke about the potential application of NMR spectroscopy to protein dynamics, the incredible shape-shifting transformations of proteins into three-dimensional structures as they carry out their functions in our cells.

That day Kern set out to visualize proteins as moving molecules. Wüthrich was doubtful it would work because East Germany's spectroscopes were so behind the times. Kern persevered, beginning her career-long focus on protein dynamics.
Her research has revealed new potential sites on proteins for drugs to target. The company she co-founded, Relay Therapeutics in Cambridge, is currently developing new treatments for cancer.
"It was through my interactions at The Leopoldina that I got this spark of an idea," Kern said. "I would not have become who I am today without it. I also appreciate the tremendous support of my students, colleagues and the leadership at Brandeis. They all have allowed me to make my dream of visualizing proteins transform in real-time a reality."
Return to the BrandeisNOW homepage