Congrats to the graduates of Science Boot Camp 2018!
Students in the Science Posse program endured 11 grueling days of classes, exams and homework. Then they had to deliver public presentations on their research.
It's called science boot camp, an intense, 11-day-long session designed to introduce incoming first-year students to the rigor and expectations of college-level science courses.

The 10 participants are part of Brandeis' Science Posse program. Posse scholars are recruited from New York City for their academic achievement and extraordinary leadership skills. One of the most competitive scholarships in the country, the scholars receive a four-year full tuition scholarship. On campus, the Posse is a supportive, multicultural team that emphasizes the success of all of the group.  
The scholars are all interested in pursuing the so-called STEM fields — science, technology, engineering and math. 
As part of boot camp, they attend classes, perform lab work, complete homework assignments and take exams. The program was started a decade ago by Professor of Biology Melissa Kosinski-Collins and Associate Provost for Academic Affairs Kim Godsoe.

Boot camp culminated with members of the Posse cohort delivering presentations in the Shapiro Science Center atrium. Each student designed a poster summarizing and analyzing the findings of a published scientific paper and delivered a brief talk to the event's attendees when they came by.

Here's a sampling of this year's posters:

Jasmyne Jean-Remy '22
"How we can use the Internet to track the next pandemic before it starts"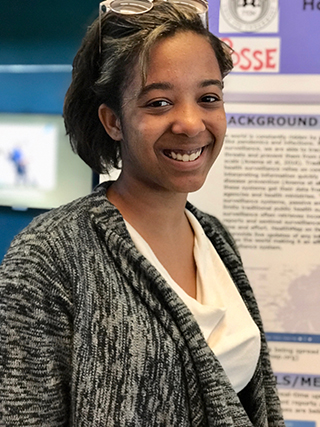 Jean-Remy looked at research on the government's response to public health threats from foodborne illness. She found that researchers could identify outbreaks using posts on the crowd-sourced review website Yelp. The approach had "its pros and cons," she wrote on her poster. It resulted in the gathering of more specific data on incidents of the sickness than the Centers for Disease Control and Prevention collected. But it also had the potential for errors due to the many incidents of false reports on the website. 

Jean-Remy chose her subject because it touches on her planned dual major of computer science and business. She said that at first boot camp was "really stressful," but then she settled in. ''It was just a matter of my brain being in summer mode," she said.

Karen Phuong '22
"The Bacteria Strike Back"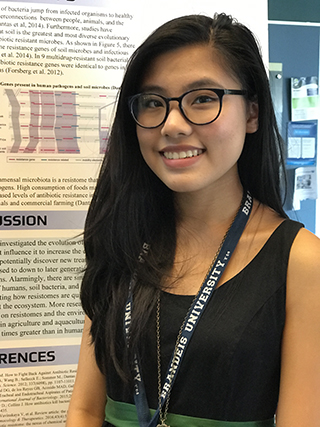 The effectiveness of antibiotic drugs is in dangerous decline because of the rise of drug-resistant bacteria. Phuong reported on a little-known breeding ground for the bacteria — soil. The research she examined shows soil to be the "greatest and most diverse reservoir" of antibiotic-resistant microbes. Many have emerged naturally through evolution. Phuong explained the different mechanisms responsible for spreading antibiotic resistance through a bacteria population.

Phuong said being part of a 10-member posse has given her "an amazing support system. Without it, I wouldn't be able to do so well." She plans to become a doctor.
Jonathan Joasil '22
"Fixing A Broken Heart: How Cyclosporine A Can Treat Myocardial Cell Death During Ischemia"

Joasil has long wanted to be a cardiac surgeon. "I've always been interested in the heart, in how simple, yet complex it is in function," he said.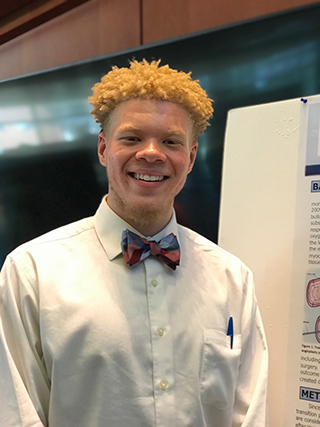 His project looked at cyclosporine A (CsA), a compound that is commonly used to suppress the body's immune system but also triggers the body's defense system against a heart attack. Research in mice suggests the molecule may be effective in preventing cell death in the heart muscle during a heart attack. In his report, Joasil said there may be a time when CsA "could one day be a pill on our bedside table" for reducing the severity of a heart attack.
Boot camp prepared him for the school year, Joasil said — "We're ready for the Brandeis education." 
Brandeis Science Posse identifies, mentors and supports diverse cohorts of students who possess outstanding academic and leadership potential and who wish to pursue a scientific discipline.
Return to the BrandeisNOW homepage