Nonprofits challenge Brandeis students to create innovative tools through 3D printing
A planter that waters itself? A farm irrigation system that runs on its own waste? A portable mattress that traps heat and weighs less than a suitcase?
These inventions may seem futuristic, but a group of Brandeis students put their 3D printing skills to the test on March 17 and 18 to develop those creations and more as part of the Printathon V5.0 Design Challenge.
The 24-hour, 3D printing showcase – street name, "Hackathon" – brought together members of Brandeis' 3D printing club, Deis3D, and students from Professor Gene Miller's International Business School course "Field Projects: Consulting in Social Innovation Impact."
Miller's course connects students as non-voting board fellows for local nonprofits that are seeking a solution to an unmet need. Students then team up with one another and the nonprofit, building their strategic and personal leadership skills in the process.
This year, however, Miller decided to add a new dimension to her students' assignments by joining forces with MakerLab director Ian Roy in organizing the 3D hackathon.
As part of the hackathon, the board fellows affiliated with the nonprofits pitched their challenges to the students to solve.
"I had no background in 3D printing, but I felt this whole hackathon was very exciting and opened me up to a whole new way of thinking about innovation," said Rabeya Hussaini '21, who designed the Farmbot, which uses plant waste to power a farm's irrigation system via a process called anaerobic digestion.
Hussaini's project was meant to benefit Landsake, a farm in Weston, Massachusetts that has minimal access to electricity.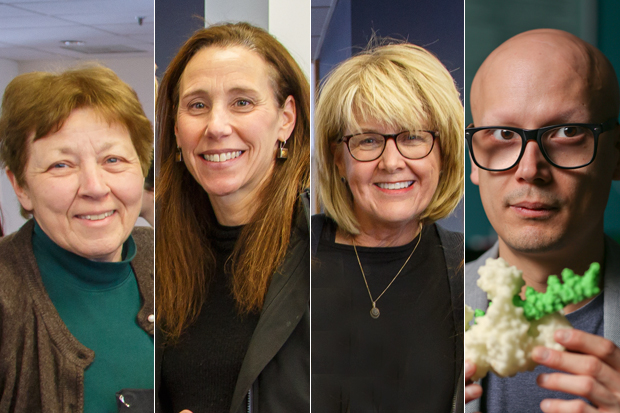 Left to Right: Mayor of Waltham Jeannette McCarthy, Karen Linde of the Linde Foundation,
Professor Gene Miller, MakerLab director Ian Roy
"It's really cool that we have access to this technology, and these nonprofits," Hussaini added. "I certainly want to continue the work I've done and maybe apply for grants that can help me take my project to the next level."
Dozens of students participated in the hackathon, including some from the University of Connecticut, University of Rhode Island and UMass-Amherst; in all, five groups presented their inventions to a group of judges that included the leaders of the local nonprofits, Karen Linde of the Linde Foundation, members of the Waltham Chamber of Commerce and Waltham Mayor Jeannette McCarthy.
Additionally, each team got a piece of the nearly $4,000 in prizes, which included 3D printing licenses, 3D printer filament, and Amazon gift cards.
For Miller, partnering with Deis 3D and the MakerLab was a no-brainer, particularly because it allowed her students to create innovative solutions in tangible, outside-the-box ways.
It also enabled students to present in front of professionals to have their work evaluated for its uniqueness, functionality, marketability and design.
"I was very excited to partner with Ian Roy from the MakerLab because it exposed our students to a new kind of experience," Miller said. "Not only do students have a chance to advance their skills, but they also get to work directly with a company for 24 hours straight to fix a problem. It's kind of like being in a startup, which is invaluable experience."
Mayor McCarthy, who mingled with students and helped evaluate each of the five groups' inventions, was proud to have undergraduate and graduate students come together in her city to conduct innovative work on behalf of local nonprofits.
"I was inspired by the ideas the students came up with for our local nonprofits. It's refreshing to see that type of brain-power," McCarthy said. "They combined heart with brains and that's a wonderful combination. This event goes to show that the types of things being done at Brandeis open doors for students and their community."
Return to the BrandeisNOW homepage