Uncovering the art and soul of the Brandeis Pottery Club
By Jack Yuanwei Cheng '23
May 11, 2023
For decades, the Brandeis Pottery Club has been a creative hub for students from all disciplines to gather and create art together. Located in the Goldman-Schwartz Fine Arts Studio, the club has become a popular destination for students with varying skill levels to gather and share their knowledge about different clay-throwing techniques.
During one of the club's recent instructor hours, where students can come into the studio to work on new pottery pieces with a student instructor, I had the opportunity to visit and witness the students' passion for pottery.
As soon as I entered the studio, I was captivated by a shelf filled with completed student work, waiting to be picked up by their creators or admired by future students.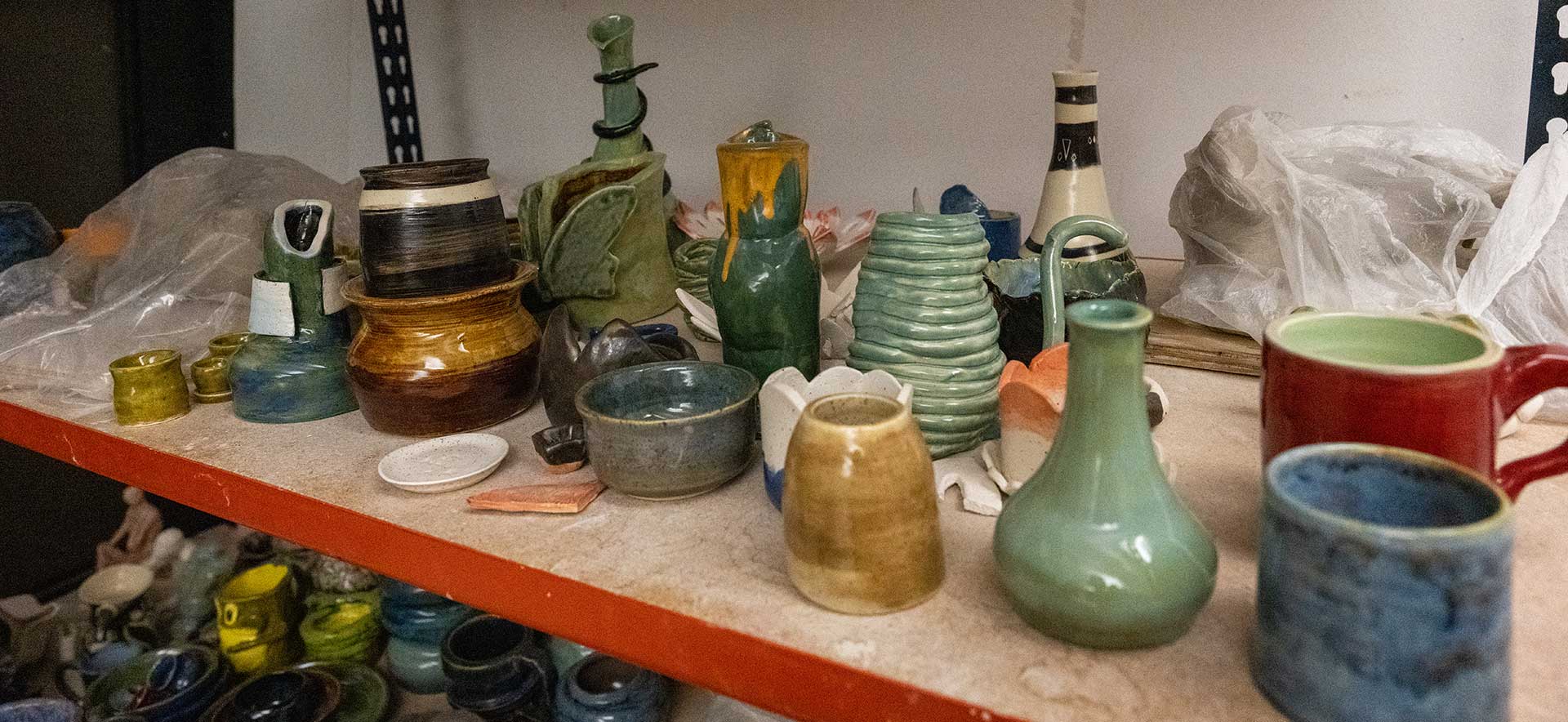 A shelf of clay creations.
The club's president, Sydney Schur '24, welcomed me and walked me through the projects she was working on. That night's instructor hour was hosted by both Schur and her colleague Mikey Terrenzi '26.
Schur, who has been doing ceramics ever since she was old enough to touch clay, stumbled across a pottery club clay-throwing demo at one of Brandeis' crafts fairs. Naturally, she went over for a turn.
"I threw one ball of clay on the wheel, and I was offered an E-board position," Schur said.
After that, the club quickly became one of Schur's favorite campus activities.
"It's a really beautiful moment, teaching someone how to do any type of art, but specifically pottery, and watching each step as it clicks for them," Schur said, "I have students that have been coming to my instructor hours for 2 years, and I am so happy that they have progressed so much during that time."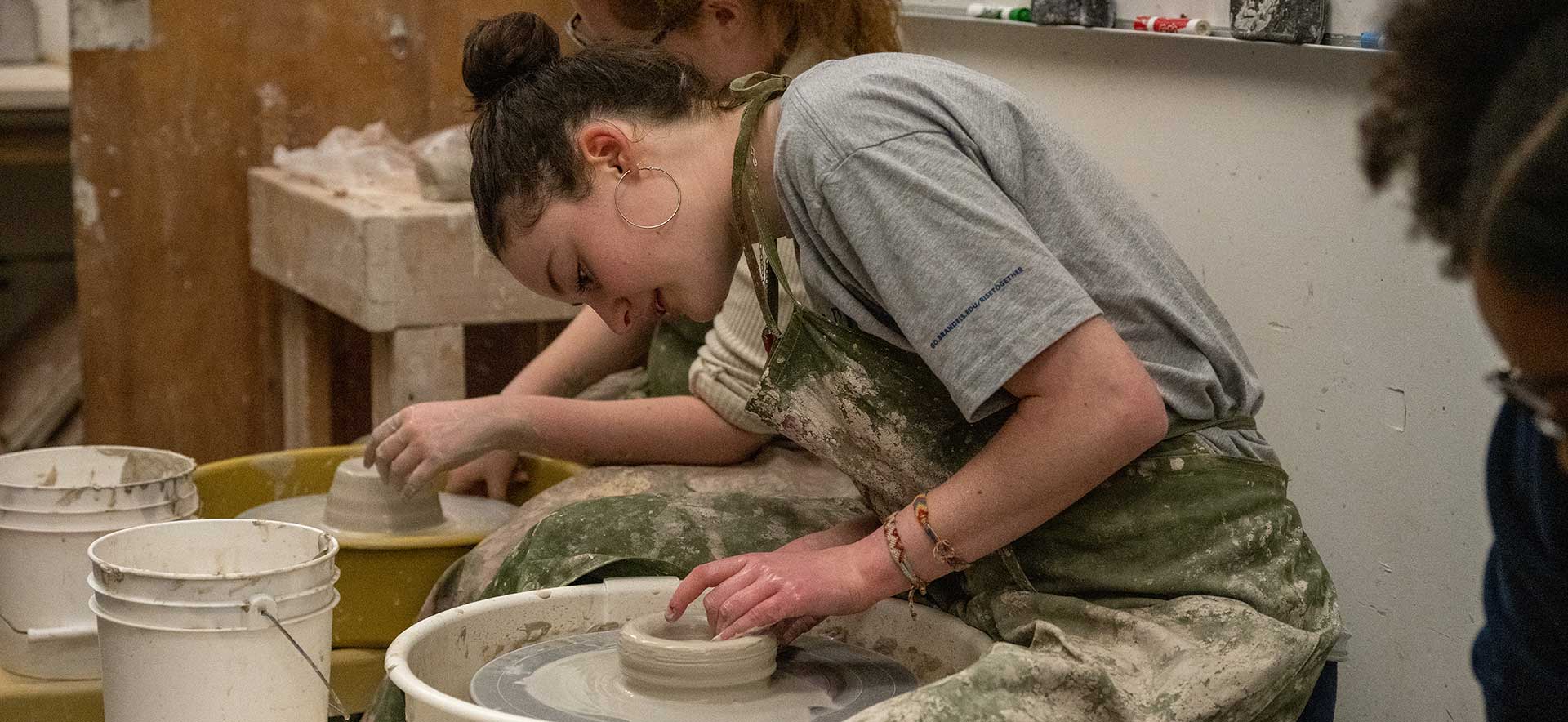 Sydney Schur '24 at the wheel.
Schur wasn't the only person passionate about pottery. I met two other members from the management team of the club, Mikey Terrenzi '26 and Lauren Lederer '25 the instructor hour who greeted me with warmth and hospitality. It was evident that the club has made a positive impact on all of their experiences at Brandeis. 
I was surprised to find my friend and longtime lab mate Rebecca Soslowsky '23 at the instructor hour. She joined the club this year. "I have been using this time as an outlet to escape from my busy schedule, and everyone here has been so welcoming. I am glad I found this community my senior year," Soslowsky said.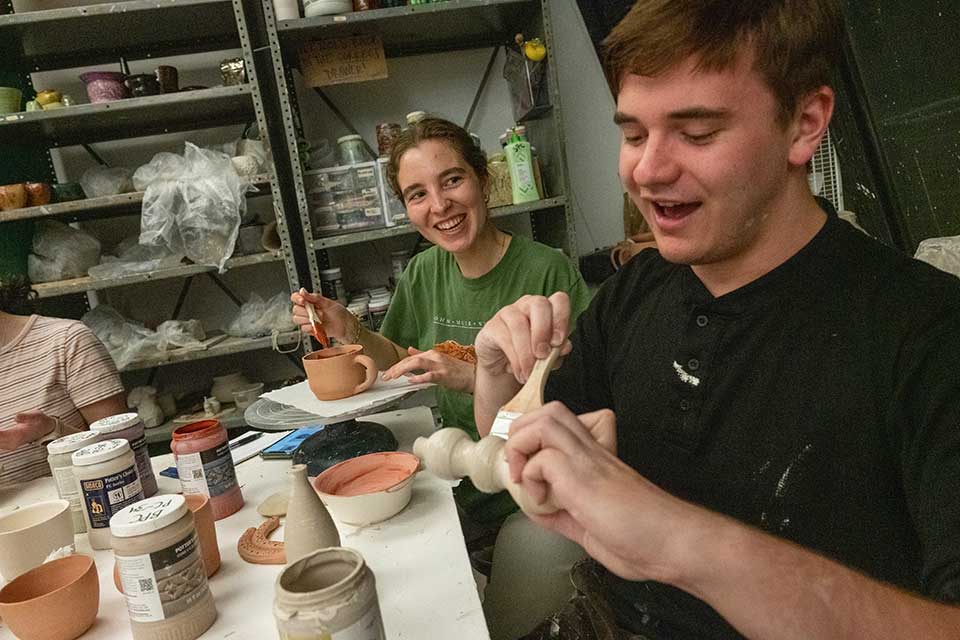 Mikey Terrenzi '26 and Lauren Lederer '25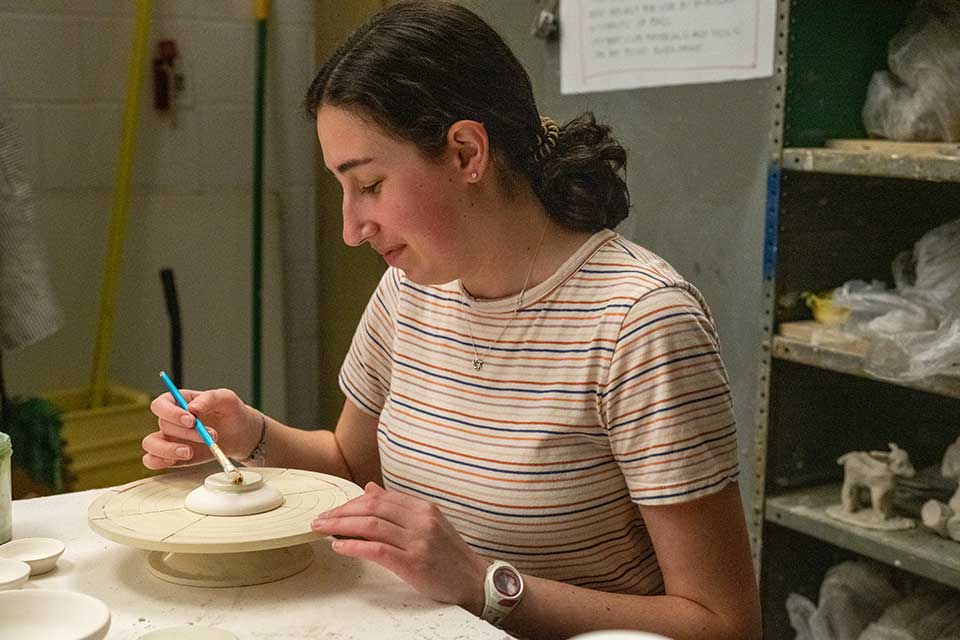 Rebecca Soslowsky '23 does some glazing.
The club has fostered a strong sense of community that transcends the boundaries of the university. The members collaborate with other clubs on campus to hold fundraising sales benefiting the American Cancer Society. All of the pieces they sell are made by students, and it was evident from the pottery sale I attended that half of their pieces had already been sold.
With increasing interest in the club, its leadership tries to ensure there is a place for everyone at all skill levels. Members develop their skills, create friendships, and a sense of community. The thriving community continues to welcome new members with open arms, while passionate members help others to gain an appreciation for the art of pottery.
The Brandeis Pottery Club is an excellent example of how art can bring people together, regardless of their background or skill level. So why not give pottery a try and see where it takes you?