Mazzi Ingram '25 is slowing down fast fashion
Through her sustainable efforts both on and off campus, the environmental studies major is making an impact.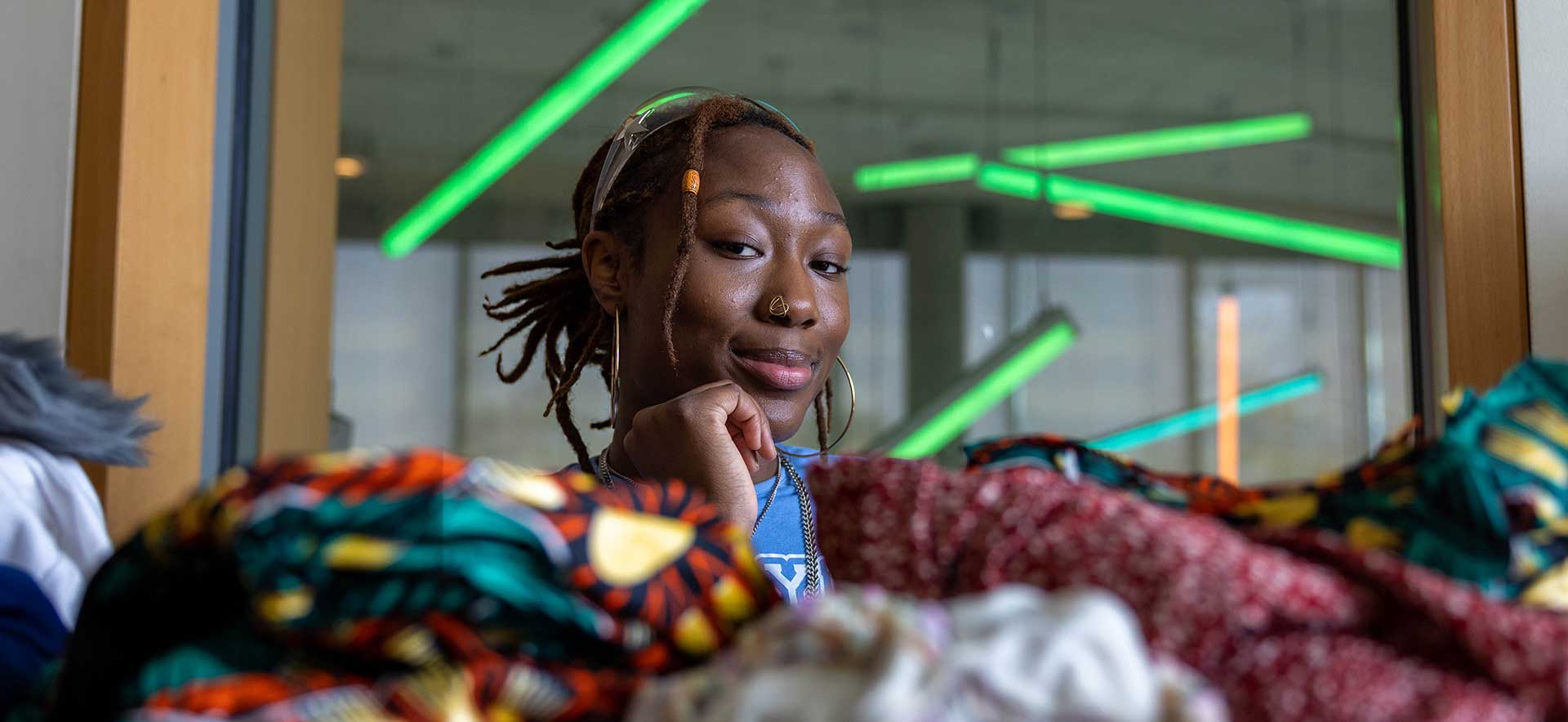 By Kennedy Ryan, Photos by Gaelen Morse
May 2, 2023
Mazzi Ingram '25 describes the Brandeis environmental studies major as the intersection between how the environment affects people and how people affect the environment. As a result of what she's learned in her courses, Ingram is focused on actively investing in making an impact both on campus and off.
In addition to hosting a workshop during the Festival of the Arts, she's now an inaugural member of the Young Climate Leaders of Color, a national fellowship community that supports youth in their pursuit of climate justice work. Ingram shares her experiences within the program, her inspiration for her recent Year of Climate Action inspired workshop, "Slowing Down Fast Fashion," and advice for students looking to go sustainable.
Can you tell us a bit about your Festival of the Arts workshop?
I created my workshop, "Slowing Down Fast Fashion," as a way to facilitate conversations around consumerism. I wanted to give people on campus the opportunity to bring items they already owned but no longer wear to 'upcycle.' We provided a variety of fabrics and materials for people to come up with creative ways to update their clothing,teach them the basics of sewing, and change it into something new.
There's so much pressure for people to go out and buy more. Brands are quick to add phrases like 'sustainable' to their clothing, making people believe buying more is the only way to make an impact on the climate crisis. That's not always an accessible option for people. I want people to know that they don't have to run out and buy new things.
When did you first develop a passion for upcycling clothing?
I've been sewing and making clothing of my own throughout most of my life. In 2013, I took a sewing class at the local library. I came home one day to see that my mom had bought me my own sewing machine after seeing how excited I was about it. I've been practicing ever since.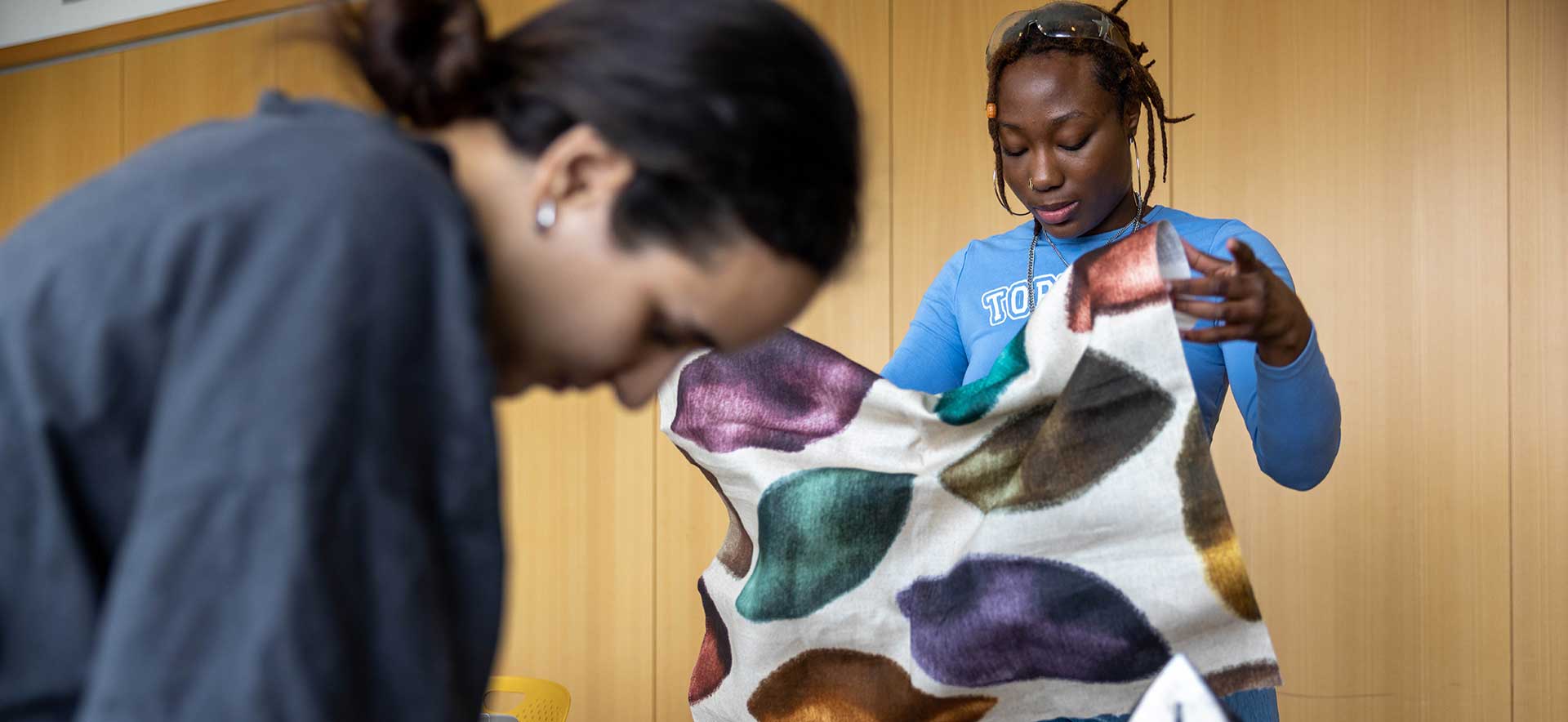 Ingram helped students give new life to their clothing during her workshop, "Slowing down fast fashion."
What advice do you have for students looking to make an impact?
The most important thing is to do what you can. There's so much drama and catastrophizing that comes along with climate efforts. It doesn't have to be that way.
If you're someone who's super into fashion and you find the urge to consume a lot of things, take a moment to think about it. Sometimes reflection is such an underrated skill. I like to ask myself, "is this something I can see myself wearing five years from now?" If not, then I won't purchase it.
It can be hard to live a sustainable lifestyle, but I think the emphasis should be on buying less and doing what you can. Individual impacts aren't the biggest problem we face in the climate crisis, but they do matter.
What is the Young Climate Leaders of Color organization?
The program participants include a range of people, from college age to people in their professions, with people coming from across the country. We first met at the conference, held in Oakland, California. We discussed how to show up as our authentic selves in climate justice work and focused on restorative justice, nonprofit work, and scholar activism.
Now, we meet once a month virtually, with one of us leading a new session on a topic we're knowledgeable about. We learn from different perspectives each week, from community farmers to journalists and filmmakers. It's really insightful to learn and observe what people are doing in their communities.
When I joined the program I was dealing with this feeling of imposter syndrome.​​​​​​ This program has really emphasized the impact women who look just like me have had. I now know I'm on the right track to make a difference in all of my communities.