Eitan Marks '24 captures the history of Brandeis University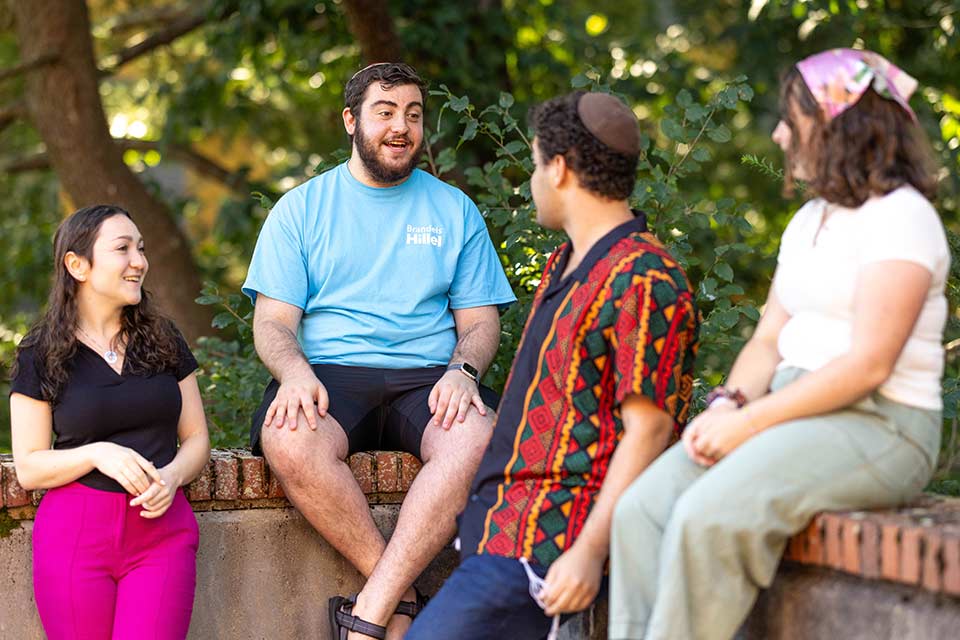 Photo Credit: Gaelen Morse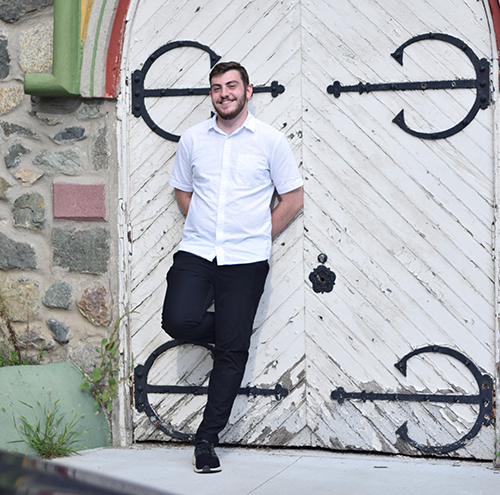 As the university marks its 75th anniversary, current students are forging the future. Eitan Marks '24, however, is dedicated to conserving the past.
The Near Eastern and Judaic Studies major is creating a timeline of Brandeis University's history, extending back to 1632.
Exploring Brandeis as a first-year, Marks found himself curious about the university's founding. Taking in the small, but compact area with its hills, he wanted to learn more about how this came to be Brandeis University's campus. He reached out to the Robert D. Farber University Archives and Special Collections to learn more.
After searching through historical artifacts and collections, he discovered there wasn't a formalized timeline that captured the university's vast history in one place. He decided to take on an independent research project to create one himself.
Marks shared his process, inspiration, and the importance of preserving the university's history.
You shared that you have a strong Jewish identity. How did your research experience celebrate your identity?
My Jewish identity is at the core of how I relate to the idea of Brandeis, and part of the reason I chose to come to Brandeis in the first place. I am proudly Jewish; I come from a family of mixed types of religious observance but an unshakable Jewish identity and pride.
The very idea of Brandeis is an embodiment and expression of that identity. Our community celebrates all different types of religious practices, observances and identity, but at the end of the day is based on an unshakable core of Jewish pride and values. That is what the founders envisioned when they thought about a Jewish-sponsored, non-sectarian university. That this school should be a shining example to the world of Jewish joy, learning and peoplehood.
What made you decide to start your timeline over two-hundred years before the university's founding?
I started during Brandeis' early years but wanted to know more about what had preceded it. I also read the plaque on the Castle remains about John Smith and wanted to know more. 
You can never really understand a period of history if you exclude the events and circumstances that preceded it. The context of Middlesex College, which itself has a fascinating story, was a key element of what enabled Brandeis to be founded in the first place. 
"My Jewish identity is at the core of how I relate to the idea of Brandeis, and part of the reason I chose to come to Brandeis in the first place."
Eitan Marks '24
Rabbi Dr. Israel Goldstein details the Middlesex to Brandeis transition in his book, Brandeis University, Chapter of its Founding, published in 1951. Brandeis, in a way, sprouted out of Middlesex when Rabbi Goldstein and the Einstein Foundation nourished the idea and developed the project of the first Jewish-sponsored university in the U.S.
Specifically going back to 1632, I thought that the John Winthrop and Boston Rock story perfectly symbolize what Brandeis was founded to be. The story goes that John Winthrop, a founder of the Massachusetts Bay Colony and Governor, surveyed the Boston area from atop Boston Hill Rock which is about 100 feet from the Castle (behind Brown). He described what the new colony should be as a "City upon a hill," which is a new testament quote that was further popularized by Winthrop's usage of it.
A shining city on a hill, a marvelous example of Jewish scholarship and identity, open for all the peoples of the world to see and experience.
How did you pull together your information?
Most of the process has been me, sitting in bed at two in the morning, scrolling through old academic catalogs and blueprints from the 1960's. The archival editions of The Justice newspaper have also been a super helpful source of information. I can sit for hours at a time in the library reading about the rich history of Brandeis and its campus.
Who are some of the collaborators who have helped this project grow?
About a year ago I reached out to University Professor Jonathan Sarna to get his insights on the idea. I knew I wanted to take on an independent research studies project during my time at Brandeis, so he recommended I use that time for this project.
He served as my faculty mentor throughout the spring semester, meeting with me every other week to walk through any challenges or questions I had about the university's history. He would help with the technicalities of tracking down information, but would also give a first-hand account of his history of Brandeis, sharing a story from his time on campus in 1975. It's been a great experience working with him.
I've also had the opportunity to connect with other Brandeis influences. President Emeritus Jehuda Reinharz helped a great deal in framing the history for me, as well as recounting stories from his seventeen years at the helm of Brandeis. Professor Steven Whitfield took the time to look over my work so far, making suggestions and editing my grammar when needed. I've spoken with Lewis Brooks, past president of the alumni association, and hope to continue to share this project with more alumni in the future.
Photo Credit: Gaelen Morse
Why is it important that we continue to capture the history of the university?
Brandeis is a place that means a lot to me. It's a place that has given me a lot of opportunities and it is also where I met lifelong friends and my partner. It's important to me that we preserve our story.
Capturing our history is an important tool for keeping our identity. What makes Brandeis is the story of how it was founded and the deep connection to the Jewish community; that is what makes it special.
There are thousands of other liberal arts universities, but what makes Brandeis different is our Jewish roots, commitment to the Jewish people, and Brandeisian character. Our students are deeply passionate about what they are doing and their love for learning. It's important that we continue to capture that shining a light on the university's history.