Matthew Isaacs Publishes Paper in Journal of Peace Research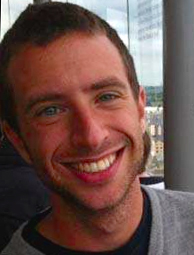 February 16, 2016
Matthew Isaacs, Jean and Robert Benjamin Fellow in the department of Politics, has spent his time at Brandeis studying the intersection of religion and civil conflicts. While generating data for his dissertation, he realized that he had accumulated enough to publish a paper, "Sacred Violence or Strategic Faith? Disentangling the Relationship Between Religion and Violence in Armed Conflict," which will appear in the Journal of Peace Research in March, 2016.
"It's a very long and complex process," says Isaacs. "You write the paper, present it at a conference, incorporate the feedback, present it at another conference etc. Finally, the feedback at the last conference was mostly, 'This is done!' So I submitted it for publication."
The question that Isaacs hopes to answer is how religion becomes implicated in civil conflicts. "There is a common assumption that religious conflicts are more violent," says Isaacs, "but actually, a lot of data suggests that militants deliberately pull religion into the longest and most violent conflicts as a means of maintaining recruitment and resources. That means there is not necessarily a causal link between religion and violence."
Isaacs originally planned to study the Middle East, but he was drawn to this dissertation topic after completing his first two years of classes. "I found the study of religion and conflict fascinating and very timely. To some degree, my dissertation has been shaped by the Politics department," he says. "There is a perfect nexus for studying this topic at Brandeis, with professors who are performing research that is adjacent to mine but does not overlap directly. That has enabled me to benefit from their guidance while finding my own voice as a scholar."
The benefits of studying in a smaller department have been very helpful for Isaacs, especially when it comes to Steven Burg and Eva Bellin, the chairs of his dissertation committee. "I have very easy access to my dissertation committee," he says. "Dr. Bellin and Dr. Burg are hands on advisors who read my work very closely. I meet with them all the time."
"It has been a terrific experience working with Matt over the past few years," says Dr. Bellin. "He is intellectually adventurous and a self-starter. At the same time he is open to analytic give and take with both his advisers and the readers we've recruited from the broader academic community. Engaging with his work has expanded my own intellectual horizons even as I hope it has sharpened his research."
In today's tough environment for academics, Isaacs appreciates that his advisors are not only concerned about his dissertation, but also his professional development. "The faculty at Brandeis have been very supportive," he says. "You could view my paper as a side project distracting me from my dissertation, but my advisors supported the project because they know it will benefit me professionally after I leave Brandeis."
In a couple of weeks, Isaacs will travel to Sri Lanka for the second time to continue his research on the conflict between the Sinhalese, a mostly Buddhist ethnic group and the Tamils, comprised mainly of Hindus. "I love doing field research," he says. "Last time I studied the Sinhalese and this time I am studying the Tamils." Isaacs will be interviewing religious and community leaders to understand their experience with conflict mobilization and their involvement in religious peacemaking efforts.
Isaacs had the opportunity to formally acknowledge Dr. Bellin last year by nominating her for the Dean's Mentoring Award. "I am grateful that students have the opportunity to thank our advisors at Brandeis," he says, "and I was thrilled when I read that she had received the award." Although he plans to remain in academia after he graduates, Brandeis will remain a special place for Isaacs. "I don't think you would get this type of mentoring everywhere."