Brandeis University Admissions
Banshee: The Women's Ultimate Frisbee Team with an Unbreakable Bond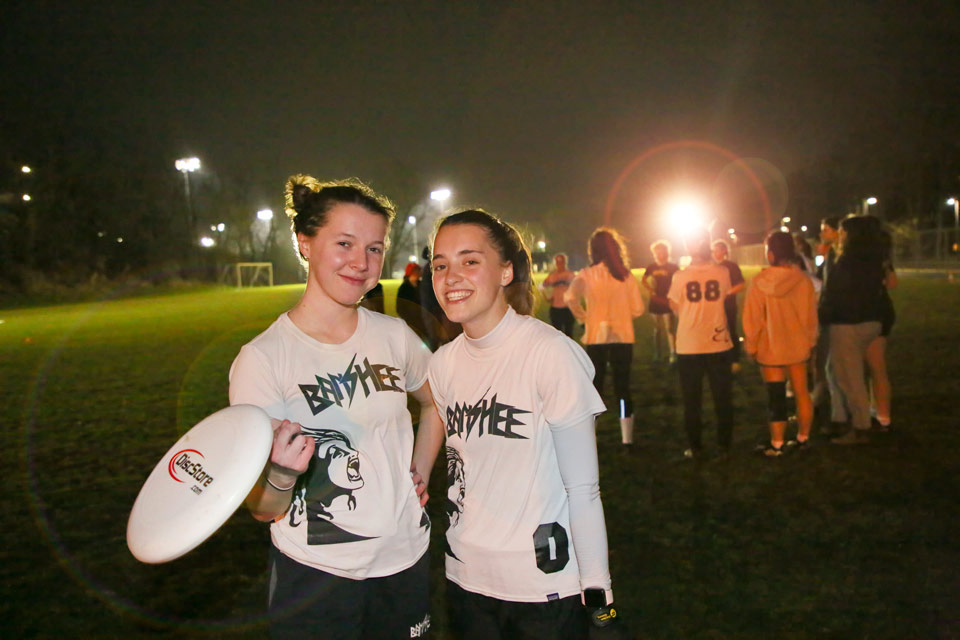 The Brandeis women's ultimate frisbee team — known as Banshee — has a legacy of creating a community that continues beyond graduation. Named by its original founders to highlight the strength of the all-female-identifying group, Banshee is a tight-knit, inclusive team.
"We are a community that accepts everyone with open arms," said Allie M. '22. Allie wanted to join the team after an Orientation leader told her about it. "He was a member of Tron, the men's ultimate frisbee team, and he really encouraged me to give the women's team a try," she said.
Allie serves as team co-captain alongside Eve R. '22. The two pride themselves on creating a warm, welcoming and comfortable team culture. Upon joining the team, each person receives a special nickname. Allie is known as "Fresca" and Eve is known as "Echo."  The nicknames contribute to the team's fun vibe.
The team currently has almost 40 members who participate in different ways. "Each person gets to decide their level of commitment," said Eve. Some members competitively participate in all practices and tournaments while other members occasionally socialize and join practices on campus. Either way, everyone comes together. "The best memories are usually just time spent together, jamming to music before games and having fun," said Allie.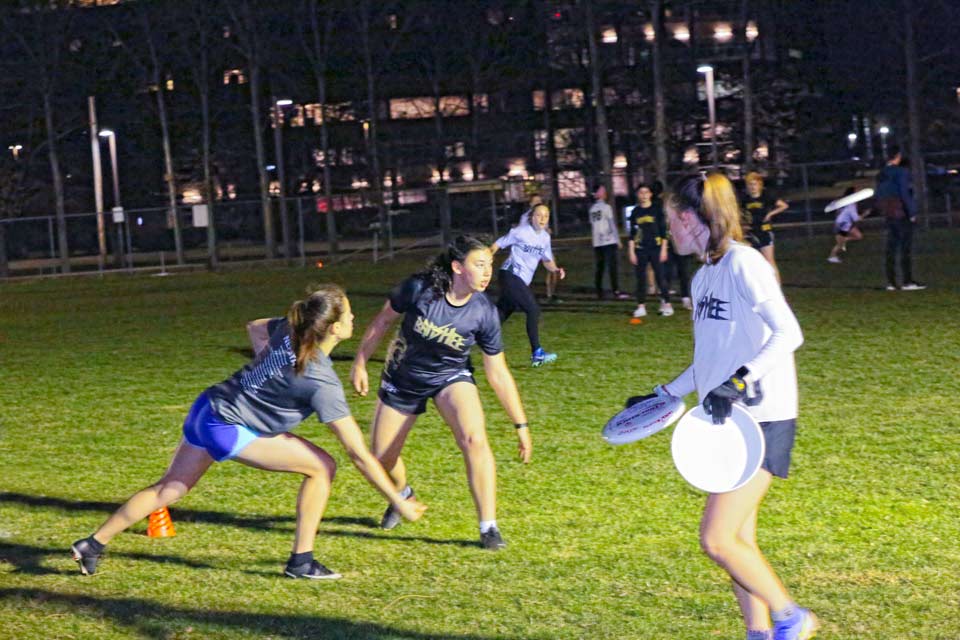 Preparing for upcoming tournaments
Only seven players are on the field at a time, resulting in a large, rowdy group of cheerleaders. "You can just feel the energy from the sidelines," said Eve.
The strong sense of camaraderie can be seen throughout the ultimate frisbee community on campus. The team competes weekly with Tron. There's a friendly rivalry between the two teams, but it's always outshined by the support seen at each game. "There's a running joke that the women's team is better than the men's," said Eve. "But you can always see Banshee in the stands at every Tron game and vice versa."
After a suspension of games during the pandemic, the team returned to the field to make Banshee history. "We lost two years of competition because of the pandemic. It felt like we were waiting forever for this moment to come," said Allie.
After a comeback at regionals, the team advanced to nationals for the first time in women's frisbee history at Brandeis.
"I scored the final point in the regional game and immediately knew we were going to nationals," said Eve. "I can't even describe how amazing that feeling was. I have never been so excited in my life."
While Banshee was invited to the December nationals, the team quickly realized fundraising was needed to bring the entire team to Norco, California. "We wanted the competition to be accessible to everyone. We put a GoFundMe out the week we qualified and never thought we'd receive the response we did," said Allie.
The team received more than $8,000 in donations for nationals. The majority of support came from Brandeis ultimate frisbee alumni, who rallied when they noticed the team's needs. "They cried tears of joy when they discovered we had made nationals," said Allie. The team received messages from hundreds of alumni, including Rebecca Lefkovitz, one of the original founders of the team.
"We started with just five girls, but once word spread we had over 20 girls in one year," said Lefkovitz. "It's amazing to see what started as a small club turn into this awesome, talented team."
Banshee and Tron traveled to nationals together, competing alongside each other in games held December 17-20. The team finished in tenth place in the league and felt tremendous support from the Brandeis community.
Among the screams and cheers, Banshee discovered alumni team members Grace Barredo '19 and Devin Feigelson '19 in the stands. Both residents of Los Angeles, the two traveled together to support their team.
When Barredo was a senior, many of the current Banshee players were first-year students. Barredo was so proud to support her former teammates' journey to nationals and cheer them on from the sidelines.
Barredo, who is currently attending the University of Southern California to become a physical therapist, attributes her love of ultimate frisbee to her time at Brandeis. "Banshee was the strongest community I have ever been a part of, both on and off the field," said Barredo.
She is currently competing with the Los Angeles Astra, the inaugural West Coast professional women's ultimate frisbee league. Barredo and her team hope to further gender equity in Southern California.
"We want the next generation to see a group of female-identifying athletes competing in a sport prominently played by men," said Barredo. "We want that representation to be seen on the highest level."
"Our community extends beyond who we know," said Barredo. "I'm just glad we were able to support our classmates and their success. I might be a little jealous, but I'm so proud of them."