Student Experience Profile: Marie Comuzzo, Musicology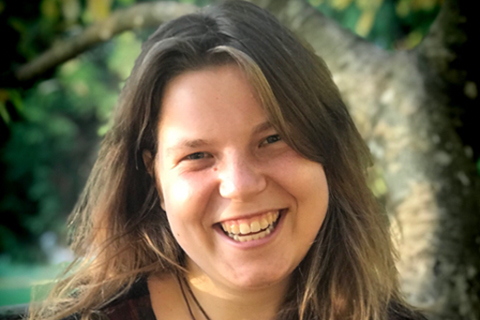 September 5, 2022
Marie Comuzzo, a PhD student in Musicology, received a Higher Education Administrative Internship to work with the Brandeis University Press for the 2021-2022 academic year. Their responsibilities included learning the nuances of academic publication, evaluating proposals and manuscripts, managing peer review processes, copyediting, producing public-facing content (publicity), learning marketing and sales strategies, and gaining skills in acquisition, production, and design. 
Inspired by their work with the Brandeis University Press, Marie was awarded a Student Experience Grant where they enrolled in marketing and digital media courses with Session College. They developed skills in marketing, multimedia, coding, and video editing which enabled them to learn effective marketing strategies.

How did you hear about the Connected PhD internship? Why did you choose to apply?
I was searching for working opportunities at the university to widen my career opportunities. I attended an introductory meeting led by Jon Anjaria and then signed up for a one-on-one meeting with him. He suggested applying for the Connected PhD positions and reaching out to the team. I did and quickly applied to the Brandeis University Press position. I love having the opportunity to expand myself beyond my academic field and to find work that is both meaningful and effective. The temporality of a PhD can feel somewhat infinite, whereas my internship operates at a fast pace with observable results on a weekly basis. It really motives me and helps put the academic career into perspective.
How did the project enhance your skills or demonstrate your abilities beyond academia?

I learned a LOT this past year and summer. This summer, I focused my work on learning about programming, HTML, CSS, Photoshop, as well as marketing strategies. The grant enabled me to take classes that resolved several issues I had encountered during the academic year working at the Brandeis University Press. As the person responsible for social media and marketing, I had to constantly learn programming skills and marketing on the spot, which was exciting, but also a bit overwhelming because it was so different from my other work. Session College's marketing and digital media courses enabled me to approach these issues in a more holistic way. I am now comfortable with many different marketing strategies, and I have acquired distinct programming skills that are helping me in my work at the Brandeis Press.
Beyond that, this work makes me feel more confident and offers a safety net. On the one hand, I can lean more into my academic work without having to worry too much about my future, so I am able to study what I want and go at my own pace. On the other hand, I am acquiring very valuable skills that open many opportunities outside academia. This has helped me realize that I am capable of excelling in many different environments and experiences that may be outside of my area of expertise. It is freeing to know that building skills for diverse careers is sustainable and lots of fun. I am grateful to the Connected PhD for providing so much support for the exploration of alternative careers.
Have you had the opportunity to lead projects on your own?
While my summer experience was primarily focused on learning, I have led many projects during my internship with the Brandeis University Press. For example, I oversaw our social media and outreach. By increasing our social media presence, I increased our Twitter followers from 500 to 5,000 in a single year. I designed the posts, updated the website, and published social media content across multiple platforms. Because of my summer courses and continued work with the press, I am becoming more efficient and at-ease with new tech tasks. The Brandeis University Press has really made me feel like I am part of the team. With each new task, I am thrilled to be learning additional skills, fostering a deeper sense of security in my future, and exploring a variety of opportunities that I wouldn't have had otherwise. It has also shown me how the skills I have developed during my academic studies are not only very valuable but are also easily transferable to other careers.
In what ways did this internship influence your future goals of professional development and career plans?
As I continue my professional development work, I feel as though I could derive a lot of fulfillments from an editorial career or another occupation that is in the service of cultural development. I love having these opportunities because it feels like it makes my future bright and colorful, rather than black and white. I know now that I do have a lot of options and that I can be very successful in a wide range of professions.
What was your favorite part of this experience?
Learning diverse skills needed to fulfill the tasks – including learning a completely new language: tech/coding/CSS – was very much out of my comfort zone. Yet, I am an artist, and learning to code makes me feel like learning a new (very weird) painting technique. It is so creative and fascinating! It took much longer than I thought to figure things out, but when things started clicking, I had so much fun developing the websites, choosing layouts, colors, fonts, etc. It sounds small, but I literally brought to life a new, fully functioning website, and it was exciting and rewarding. 
What advice do you have for current students who might be interested in a Higher Administrative Internship? 
Start now! Don't wait to develop these skills, they are so freeing and important. They also teach us so much about how valuable the skills we learn on our academic path can be in other careers too. It is one thing to hear it, and a totally different thing to experience it. It also reframes the idea that if you don't "make it" in academia, you have failed. I think that getting a PhD is an incredible opportunity and may or may not lead to an academic career. The Connected PhD is normalizing alternative paths, which is so valuable and important for our mental health and sense of self. It is also normalizing the option of choosing a career in service of other academics. Publishing books, for example, is very exciting. While you may not be the one who writes it, you are a fundamental part of getting the book designed, printed, and out to the people who want to read it. That is something very valuable, beautiful, and important.