2008-09 Brandeis concert season celebrates musical traditions and innovations
Season features popular "Marquee Concert Series" and world music concerts
WALTHAM, Mass. – A dynamic blend of tradition and innovation distinguishes the 2008-09 Brandeis concert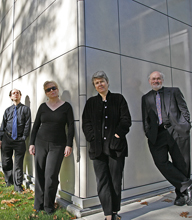 season, which offers music ranging from the Lydian String Quartet performing Beethoven and Mozart – to Northern Lights' inventive blend of bluegrass, jazz, and rock, as well as a performance of Bach's majestic Cantata 21 and a world music concert featuring North African folksong and hip-hop beats.

The Lydian String Quartet will lead off the concert season with a continuation of its new multi-year concert series "Around the World in a String Quartet," as well as individual performances by Joshua Gordon and Daniel Stepner.

The internationally acclaimed quartet, comprised of Daniel Stepner and Judith Eissenberg, violins; Mary Ruth Ray, viola; and Joshua Gordon, violoncello, are professors of the practice of music at Brandeis. This season they will "travel" to different lands, including America, Peru, Germany, China, Austria, France and Czechoslovakia, through music.

A highlight of the upcoming Brandeis concert season is the "Marquee Series" of professional concerts representing a wide variety of styles ranging from bluegrass to hip hop.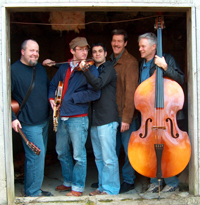 The series begins with Northern Lights, the Northeast's veteran string band, on Oct. 24. According to Billboard, "An original risk-taking bluegrass/newgrass act, Northern Lights shines..." Over the past 30 years the band has been exploring new musical territory without losing its acoustic and vocal bearings. From 1990's "Take You to the Sky," to 2005's "New Moon" (Fifty-Fifty Music), the band has fused an eclectic mix of traditional roots music, rock, country, soul and gospel with the high, lonesome vocal sound and instruments of bluegrass.

Prepare for an evening filled with music, clogging and maybe even "patty cake" on Nov. 7 with "Kristin Andreassen and Friends." Andreassen is an award winning singer, songwriter dancer and multi instrumentalist who is well known through her groups Uncle Earl, Sometymes Why, The Jolly Bankers and The Footworks Percussive Dance Ensemble. The song "Crayola," which she wrote with Megan Downes, won the 2006 John Lennon Songwriting Contest in the children's category.

Roy  "Futureman" Wooten is embarking on a new creative journey with The Black Mozart Ensemble. On Feb. 7 "Futureman and the Black Mozart Ensemble" will join forces on stage, celebrating the life and music of the Black Mozart - Joseph Boulogne de Saint Georges. The Black Mozart Ensemble is composed of young virtuoso violinists and cellists under the direction of Futureman. The music is complemented by the addition of hip-hop artists, and actors/narrators.

Christine Lavin is next on the series lineup with a performance on March 6. Lavin's songs are the sound tracks of American life and foible, nailing a number of the absurdities, reversals and neuroses that jam up our daily lives. Lavin's visit will feature a pre-show knitting circle, and audience members are encouraged to bring knitting, crochet or quilt projects.

The final marquee series concert of the season will spotlight Matt and Shannon Heaton on March 13. The pair makes traditional music relevant to American audiences. They embrace the solid Irish roots in their music and aren't afraid to step out and sing from their American musical and social experiences.

Audience members can also experience international cultures of music through this season's MusicUnitesUS World Music Concerts. This popular series invites audiences to experience diverse histories and cultures through the universal narrative of music. This season will feature musical performances from India and North Africa.

Celebrated Indian artist Shubha Mudgal will be featured on Oct. 18. From a living tradition extending back thousands of years, Mudgal's richly textured voice takes the listener on a musical journey that draws inspiration from medieval Sufi poetry, romantic love and the paradoxes of modern life. Mudgal's music explores the hidden passageways of the soul, balancing extraordinary discipline and breathtaking virtuosity with the improvisation of the imagination. Shubha Mudgal will be accompanied by Aneesh Pradhan, tabla; Sudhir Nayak, harmonium; and Murad Ali, sarangi.

Nettle will take the stage on March 21. The group is comprised of an African-American DJ, a Scottish cellist, and two Moroccan musicians - all of whom met while living in Barcelona. Nettle embodies the far-flung movement of people, ideas, and cultural practices so common in our globalized age. North African folksong, free improvisation, and hip-hop breakbeats create a powerful sonic space where world music clichés are abandoned.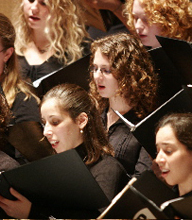 In addition to these professional concerts, Brandeis student ensembles will perform nearly two-dozen concerts this season. This year's highlights include several performances by the Brandeis-Wellesley Orchestra on Oct. 5 and Nov. 22. Under the direction of Neal Hampton, the orchestra is dedicated to bringing inspiring performances of the great orchestral literature, both past and present, to a new generation of musicians and audiences.

Location and Tickets

Concerts at Brandeis are held in the Slosberg Music Center and Spingold Theater Center located on the Brandeis University campus at 415 South St. in Waltham, Mass. Subscriptions or single tickets for events throughout the concert season are available online at http://go.brandeis.edu/brandeistickets or by calling 781-736-3400. Tickets are also available at the daytime box office in the Spingold Theater Center and at the Slosberg box office one hour before events begin.  For more information visit http://www.brandeis.edu/arts/concerts/tickets.html.
Brandeis 2008-09 Concert Season

Lydian String Quartet: Around the World in a String Quartet
America/Peru/Germany
Saturday, Oct. 4, Slosberg Recital Hall
8 p.m. Concert/7 p.m. Lecture

Student Performance: Brandeis-Wellesley Orchestra
Neal Hampton, conductor
Sunday, Oct. 5, 3 p.m., Slosberg Recital Hall

World Music Series Concert
Shubha Mudgal
Saturday, Oct. 18, 8 p.m., Slosberg Recital Hall

Marquee Series Concert
Northern Lights
Friday, Oct. 24, 8 p.m., Slosberg Recital Hall

Student Performance: Brandeis Music Department Ensembles
A highlight of Fall Fest weekend
Sunday, Nov. 2, 1:00 p.m., Slosberg Recital Hall

Marquee Series Concert
Kristin Andreassen and Friends
Friday, Nov. 7, 8 p.m., Slosberg Recital Hall

Lydian String Quartet: Around the World in a String Quartet
Germany/China/Austria
Saturday, Nov. 8, Slosberg Recital Hall
8 p.m. Concert/7 p.m. Lecture

Student performance: Brandeis University Chamber Choir
James Olesen, director
Sunday, Nov. 16, 3 p.m., Slosberg Recital Hall

Student performance: Brandeis-Wellesley Orchestra
Neal Hampton, conductor
Saturday, Nov. 22, 8 p.m., Slosberg Recital Hall

Student performance: Brandeis University Wind Ensemble
Thomas Souza, director
Sunday, Nov. 23, 3 p.m., Slosberg Recital Hall

Student performance: Brandeis University Jazz Ensemble
Bob Nieske, director
Saturday, Dec. 6, 8 p.m., Slosberg Recital Hall

Student performance: Brandeis University Early Music Ensemble
"Off the Page and Onto the Stage"
Sarah Mead, director
Sunday, Dec. 7, 3 p.m., Slosberg Recital Hall

Student performance: Brandeis University Chorus
Guests: Kendra Colton, Pamela Dellal, Jason McStoots, Sumner Thompson and the Leonard Bernstein Scholars
James Olesen, director
Sunday, Dec. 7, 7 p.m., Slosberg Recital Hall

Student performance: Brandeis University Improv Collective
Tom Hall, director
Monday, Dec. 8, 7 p.m., Slosberg Recital Hall

Student performance: Chamber Music Ensembles Recital
Judith Eissenberg, director
Tuesday, Dec. 9, 7 p.m., Slosberg Recital Hall

Lydian String Quartet
Joshua Gordon, cello and Randall Hodgkinson, piano
Saturday, Jan. 24, 8 p.m., Slosberg Recital Hall

Lydian String Quartet: Around the World in a String Quartet
America/France/Germany
Saturday, Jan. 31, Slosberg Recital Hall
8 p.m. Concert/7 p.m. Lecture

Marquee Series Concert
Futureman and the Black Mozart Ensemble
Saturday, Feb. 7, 8 p.m., Slosberg Recital Hall

Lydian String Quartet
A Tribute to Irving Fine
Daniel Stepner, violin and Sally Pinkas, piano
Sunday, February 8, 3 p.m., Slosberg Recital Hall

Marquee Series Concert
Christine Lavin
Friday, March 6, 8 p.m., Slosberg Recital Hall

Marquee Series Concert
Matt and Shannon Heaton
Friday, March 13, 8 p.m., Slosberg Recital Hall

Lydian String Quartet: Around the World in a String Quartet
Germany/America/Czechoslovakia
Saturday, March 14, Slosberg Recital Hall
8 p.m. Concert/7 p.m. Lecture

World Music concert series
Nettle
Saturday, March 21, 8 p.m., Slosberg Recital Hall


Return to the BrandeisNOW homepage